Witch King by Martha Wells from @tordotcom #BookReview #Fantasy
Witch King by Martha Wells
Tordotcom, HB, £15.00 (Forbidden Planet)
Reviewed by Tansy Hoskins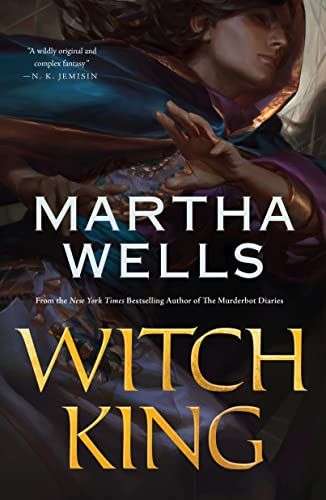 Martha Wells has a soft spot for outcasts, for those who are usually the subject of terrifying stories told around campfires – Shapeshifting winged predators, wild fae queens, leaders of the criminal underworld, cursed wizard hunters, and lately, a professional killer robot.
In Witch King, our outcast is the demon Kaiisteron, accompanied by a glorious Witch known as 'The Scourge of the Temple Halls.' Wells' books are so disarmingly compelling because, in them, we get to see the soft side of the outcasts, their sadness at their exclusion and their bewilderment at why no one takes the time to get to know them before running screaming into the distance or stabbing them in the back.
In Witch King, we start at what should be the happily ever after, except our outcasts have been captured, murdered and locked in an underwater prison – this is not just unfair but also something of an inconvenience given that they'd rather be at home with the extended Queer family they built in the aftermath of a revolutionary war.
The book follows Kai and Ziede the Witch as they try to discover who captured them and why, and seek the return of their friends, including Ziede's wife Tahren, who is also in disgrace as a 'fallen' member of the Immortal Blessed. This story is rich and fulfilling with enemies, battles, magic, body-stealing ghouls, shell-whales, giant shaggy wallwalkers and a glorious cast of characters who may or may not be trusted. In typical Wells style, no expense has been spared to depict the landscapes and cultures of the Rising World in a way that leaves a reader blinking against reality when they close the book.
If this wasn't enough, Witch King also holds a second interwoven timeline that takes us deep into a tumultuous past. This second narrative feels particularly important not just because it explores Kai's past and reveals the context and motivations for his actions but because it paints a rich picture of a revolution. A lot of tales depict revolution as the result of a single special person, but Witch King avoids this trap. While we continue to follow the action through the eyes of a bonded group, we experience the widespread social forces that are at work – the full swathe of people and groups that are needed to overthrow a system of oppression. It is a grounding that makes this book feel relevant and important for our own tumultuous times that are themselves in need of 'unburning'.
There is more glorious detail in the second timeline, and I hope this book will become a series so we can learn more about this world and its people. Yet amongst all the action, this is a rich book full of introspection and thoughts on memory and being-fullness. There are Kai's memories of the bodies he has inhabited regardless of their gender or age, there is a rescued Witch searching for a past that has been stolen from her, and in one of my favourite parts of the book, a half-sunken old river barge has its memories restored so that it can rebuild itself and float once more.
Leap in and inhabit this book in the way the scaremongering campfire tales say a demon will inhabit a fresh body. Witch King is Wells doing what she does best, writing with her feet in the complicated mud of the Rising World and her pen sketching a path through the chaos to the green gardens of a homely step-fort.