The Mandroid Murders by Robin C. M. Duncan (Quirk and Moth Book 1) from Space Wizard Science Fiction #BookReview #SciFi #MurderMystery
The Mandroid Murders by Robin C. M. Duncan (Quirk and Moth Book 1)
Space Wizard Science Fantasy, ebook, £4.99
Reviewed by Nadya Mercik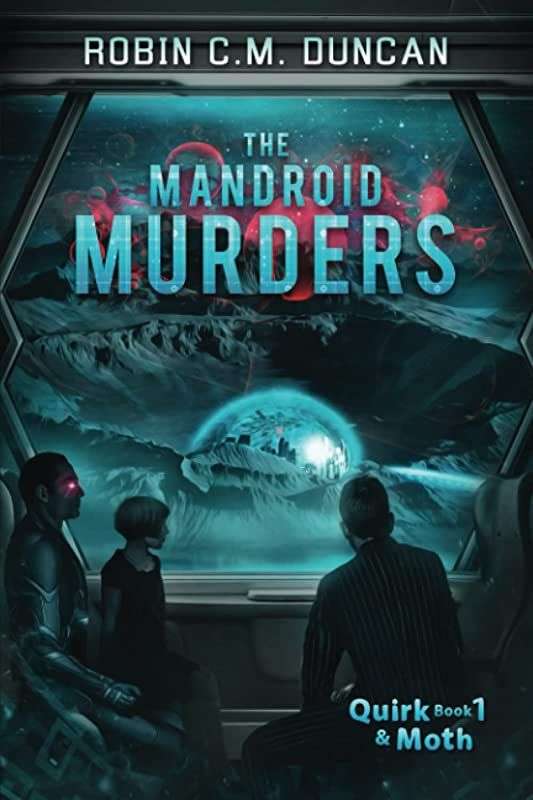 I am so excited writing this review as if I am, personally, bodily in an android chase, first in Italy, then on the Moon. Hey, has someone invented the consciousness upload for real?
But I am running ahead of myself. Let me present – Quinton Ignatius Richmond Kirby, commonly known as Quirk, and Angelika Christina Emilia Muriel di Fantano Moratti, who insists (you'll regret if you don't) you call her Moth. An explosive duet running investigations. You'll fall in love with them, just like I did, because staying indifferent to those personalities is impossible.
Quirk is "the detective, the agent, the courier, the consultant, the investigator, brain for hire, shrewd negotiator, facilitator, excavator of truth", according to his own job description. He loves to dress stylishly, treasures his Merrion suit beyond measure, is prone to flirting, doesn't carry guns (because who needs them when your brain is the weapon) and would never take up a murder case.
Moth, fourteen, is the niece of capo di tutti capi in the interplanetary Cosa Nostra, who'd lost her parents in a police raid and resides in the Convent of Little Sisters on her uncle's orders.
But things are about to change.
Quirk is completing a simple task for Moth's uncle, Toni di Fantano. It looks a bit crazy for him to travel from the Sol's asteroid belt, where he lives, to Italy on Earth just to do a dead drop, but it's easy money, and everything seems legal. So why not? He even has time for a coffee and chatting up a beautiful woman before he plans to head back. In the meantime, Moth is fed up with the convent. When she finds out her uncle left a task for his wife, who also resides in the convent, she doesn't waste a moment and persuades her aunt to pass the job to her. After all, it's nothing difficult – pick up an envelope, then meet a guy off the train and see him to the hotel. There is a small disturbance that may ruin this plan – represented by the android assigned to her, but Moth's ingenuity solves the problem as she leaves the android to charge and escapes through the window.
However, it turns out that Fantano's guest from the train came with a specific mission to liquidate the criminal boss. Now that the capo di tutti capi is dying, the others are going to fight for his legacy, and Moth will be in the firing line. In his last hours, Toni comes up with a plan – he drags Quirk to his office (because, well, he is the easiest to grab and has some reputation) and poisons him with a neurotoxin (from that very envelope he dead dropped). Then Toni makes him sign an agreement to become Moth's guardian: Quirk is to take her off Earth and guard her for the next seven years. There is a considerable sum accompanying this agreement as well as a complication – the only antidote for the toxin is now in Moth's saliva, and if Quirk wants to stay alive for the foreseeable future, he needs the girl.
Neither of the two is happy with the agreement – just imagine the detective who never wanted children and the girl who lost all her closets of kin and is never giving up without a fight. But the ship has sailed, and now they must work it out. While they are fulfilling the job for Quirk's next contractor. This a delicate case for a big corporation that doesn't want police interference because they don't want anyone to know that their new technology – i.e. an android with an uploaded human consciousness – is running amok on a killing spree. Now Quirk, Moth, their android under the codename Eight and a lawyer from their contractor Mary will have to follow the trail without tipping off the police. Not an easy task when the only way to trace an android is through the police systems. The head-spinning chase full of complications, scapegoating, Quirk's fits and gradual growing onto each other follows.
I swallowed the book just like that, drawn into it with the voices and themes, amazing worldbuilding and vivid descriptions. I've never been to Italy myself, but I was always swept by the beauty of the language and the culture. And in those first chapters, I felt like I stepped off that space elevator together with Quirk, took the turbine train and was immersed into the agitated life of good old Italy, where technology has no chance of fully evicting the past. I loved the echoes of the Godfather – it turns out La Cosa Nostra fits so wonderfully in the mega-interplanetary-corporation world. The real Moon, where they move to later, may seem less remarkable in comparison to Italy, but in Quirk and Moth's story, I'd say it is a rather vibrant place – a safe haven from UN regulations, a place of science, with Russian, Chinese, Japanese and other districts, with the ban on drugs and alcohol.
The interactions between Moth and Quirk were hilarious and heartfelt. I'm usually not a great fan of typical teenage behaviour in books or films, but Moth simply won my heart. She can bite your head off with her remarks, but she will never leave a friend in trouble. And Dio mio, she is resourceful.
I loved the direction the idea of the consciousness transfer took. The technology is being tested on paraplegic or similarly disabled people, supposedly giving them freedom. But it is also torture because you get just a short span in the android throughout the weeks, and even that is just for experiments. Not to mention the fact that the disabled are mostly victims of the sister corporation. When Gregory Callan, the rogue personality, learns how to transfer his consciousness from one android to the other, he begins to use both male and female androids and, at one point, begins to ask himself whether he is still a he. Callan, focused on his vengeance, also struggles with the lack of remorse – not that it hinders him, but he keeps asking himself the question – should he be feeling it? There is something symbolic in the act of the person losing his compassion as he's being transported into a robotic body. Though he thinks he is fighting for other deprived people, he doesn't seem to be able to actually empathise with them. He's lost touch with reality in some way. He doesn't see, like those around him, that such corporations are, in fact, needed in the twisted way this world works. He is a rebel without rebellion.
On top of that, there are hooks for further stories. Will Moth's past follow her even after she has sold her shares in Uncle Tony's enterprise? Who was the handsome Beatrix who promised to save Quirk only to be able to kill him in the future?
So many things stand out in my memory as I think of The Mandroid Murders. I guess if you prefer to see books as recipes, this has all the best ingredients – a tough cookie for a case, an intriguing detective duet, an interesting uptake on the technology application, enough backstabbing, betraying and chases, interesting locations, two strong personalities (sorry, Dr Watson but Moth definitely outguns you in ingenuity, initiative and, maybe, even detective skills), vengeance against soulless corporations, beautiful, vivid and witty language. But I, for once, prefer not to read the contents but savour the delicious flavour of this cocktail (pretending I am somewhere around Piazza del Duomo, enjoying an espresso or a glass of wine). Quirk and Moth's story will stay with me for a long time. I will be rereading it. And I can't wait for the second book – The Carborundum Conundrum – which is supposed to come out this June.