The Flaw in the Crystal and other Uncanny Stories by May Sinclair edited by Mike Ashley from @BL_Publishing #BookReview #Horror #Short Stoies #MaySinclair
The Flaw in the Crystal and other Uncanny Stories by May Sinclair edited by Mike Ashley
British Library Publishing, pb, £9.99
Reviewed by Ian Hunter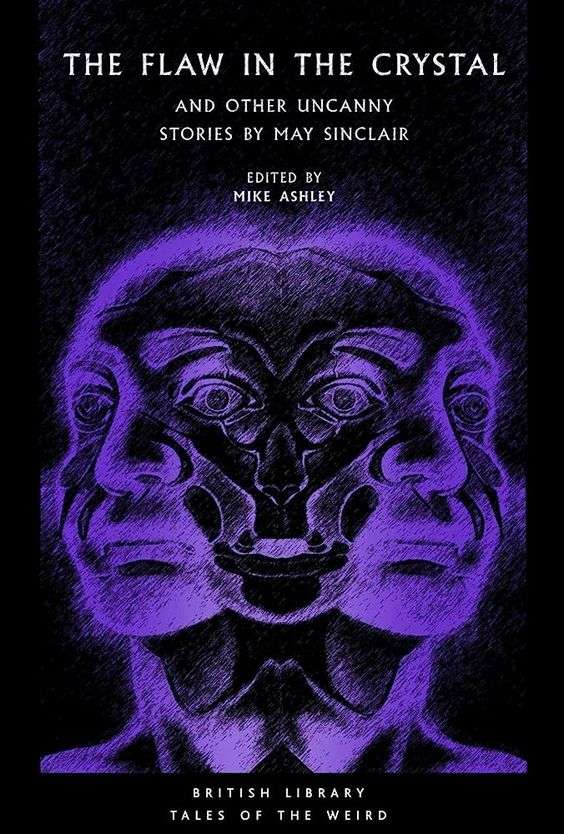 "The Flaw in the Crystal" is another one of those excellent British Library publishing's "Tales of the Weird" series, which are either devoted to a theme or a particular author. Themes can include the obvious, such as coastal horrors, insects, Christmas, mad science, occult detection, haunted forests, or the very weird such as stories about tattoos and the mathematical weird. Authors whose work has been collected under this banner include familiar names to followers of weird fiction, such as Algernon Blackwood, Sir Arthur Conan Doyle, William Hope Hodgson, and Sheridan le Fanu, but the series produces collections from lesser-known writers, particularly female writers such as Eleanor Scott, Mary E. Wilkins Freeman, and now May Sinclair with "The Flaw in the Crystal" bringing together fourteen of her tales of the uncanny, mainly drawing on her two collections "Uncanny Stories" which was published in 1923, and "The Intercessor and Other Stories" which was published in 1931, however, this latest collection includes two later, less-well-known stories that editor Mike Ashley believes should be gathered with her other tales of the uncanny.
Apart from the stories themselves, Ashley provides an introduction entitled "Introduction on the life and work of May Sinclair", and like others in the series, this provides a fascinating insight into the life and times of the writer, and it is always interesting to see how their upbringing possibly shaped their writing career and what they wrote about. Certainly, Sinclair didn't have an easy upbringing. She was born in 1863, one of seven children, and her father was a businessman, but his business ventures failed, and he turned to drink, which would eventually kill him, leaving May with her mother, with whom she had a strained relationship. Some of her brothers moved away, some died young. Her sister, Gertrude, died of scarlet fever nine years before May was born, with May's mother holding her up as a perfect child, seemingly loving her dead daughter more than her living one, leading to May being almost haunted by the memory of this little girl. Fortunately, she managed to go to college and developed a love of philosophy and an interest in the suffragette movement and advances in psychical research. To earn money, she started to write poems, work as a translator and branch into writing short stories, which appeared in wonderfully named periodicals called "The Criterion", "The English Review", and "The Fortnightly Review", among others. Her first novel, "Audrey Craven" was published in 1987. Her popularity and critical acclaim peaked after the First World War and early twenties, but as that decade continued, her writing career dwindled. She eventually died in 1946 after suffering from Parkinson's Disease for several years.
Of the stories collected here, there are grand overarching themes – love and death, unexpected events, the malice of others – themes which seem to clash with everyday life to scrape away the veneer of ordinary living and expose a strange, disconcerting world underneath. Not surprisingly, family relationships loom large in many of the tales which straddle standard gothic fiction and a more modern take on the uncanny. The title story of this collection is her earliest tale of the uncanny, appearing in "The English Review" in 1912 and tells the tale of Agatha Verrell, who uses a healing gift she calls "the crystal" to cure people with mental health problems and tries to help a couple whose marriage is struggling even though she is in love with the husband. She also tries to help someone who has suffered a complete mental collapse, but the use of the crystal is a two-way street, and Agatha finds herself overwhelmed by the inner turmoil she is trying to cure.
"Where the Fire is Not Quenched" tells the story of Harriet, who has endured a loveless marriage and an affair with a married man called Oscar, and when he dies, Harriet turns to religion as solace, but when she dies, she finds Oscar waiting for her in an afterlife, possibly Hell, or an inescapable limbo that is as good as Hell. The token referred to in the story of the same name is a Buddha figure that may mean more to Donald, a repressed Scotsman, than his late wife, Cecily. The only way she can be at rest is for him to prove that he loved her, but can he? "The Nature of the Evidence" isn't as slow as some of the other stories in the collection, telling the tale of an unnamed narrator who is trying to consummate his marriage to his second wife, but unfortunately, the spirit of his first wife keeps popping up to prevent it. Another domestic tale unfolds in "If the Dead Knew", where a man believes he willed the death of his mother to clear the way for inheriting her money and giving him the means to marry, a story which possibly mirrors Sinclair's own relationship with her mother. The idea of wishing someone was dead is explored again in "The Victim", although the actions of Steven, a chauffeur, do go beyond merely wishing the death of his employer in a story which has a couple of neat, unexpected twists.
More unexpected twists appear in other stories in this collection, many of which concern children and parents, particularly unfeeling mothers, drawing on Sinclair's own circumstances of living with an older parent and also never marrying yet being in love with someone who is. Circumstances aside, what is evident is Sinclair's ability to give the uncanny and weird tale a different slant, and the British Library and Mike Ashley should be congratulated for bringing May Sinclair's work to a wider audience.