THE FAITHLESS by C.L. Clark from @TitanBooks #BookReview #Fantasy
THE FAITHLESS by C.L. Clark.
Orbit Books. p/b. £9.99.
Reviewed by Elloise Hopkins.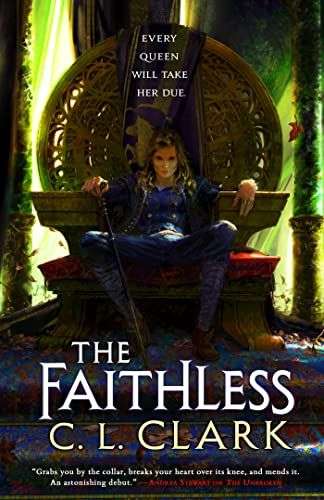 Luca should be the ruler of Balladaire, but it seems her uncle will go to any length to discredit her abilities and retain the power he was granted as her regent so many years before. Tasked with agreeing to a treaty with the Qazãli, she has predicted correctly just who the Qazãli people would send as their ambassador. Can she put the past and her feelings aside?
Those around Touraine would see the end of the Balladairan Empire. Their enemies seek the secrets of Shãl's healing magic, and now the burden of brokering peace can only fall on her, who has lived and served on its shores. Forced to face the consequences of her previous dealings with Princess Luca, will trading those precious secrets save those Touraine cares about, and will she be able to master the power that last time wielded such horrifying consequences?
The Faithless is the second book in Clark's Magic of the Lost trilogy, the first instalment of which was nominated for the BFS Best Fantasy award, among others. Set this time predominantly in Balladaire, The Faithless is a pacier read and focuses much more on the restrictions of the magic system alongside the machinations of Luca's uncle, Duke Ancier, and the changed dynamic between Touraine and the princess.
The action largely takes place in and around Luca's court, and there are some brilliant supporting characters. The confidence and sass of the Marquise of Durfort are particularly sparkling on the page. This second book is heavier on emotional connections and less driven by action than the first. A huge strength in this story is its delightful ability to surprise as the pages turn, leaving the reader never quite sure who is going to prevail in the end nor what the cost will be. Betrayals abound, and the finale of this series promises to be explosive.