The Caledonian Gambit by Dan Moren from @SFGateway #BookReview #Scifi #Spies
The Caledonian Gambit by Dan Moren
SF Gateway, ebook, £2.99
Reviewed by Sarah Deeming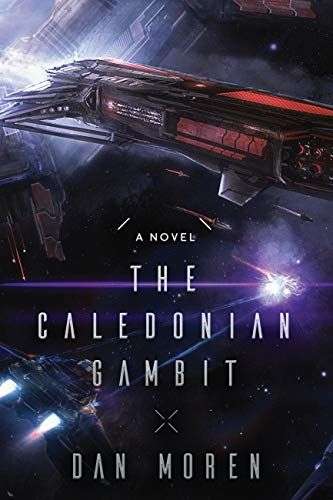 Eli Brody has spent the last five years as a sort of prisoner of war cleaning toilets on a planet that's the wrong end of a collapsed wormhole. His life is going nowhere until the wormhole is reopened, and a Commonwealth spy comes through asking for him. Since Brody has been absent, the war between the Illyrian Empire, Brody's old side, and the Commonwealth has gone cold, with spies on both sides trying to gain the upper hand. Brody needs to make contact with his brother on his homeworld, Caledonia, which is currently under Illyrian control. From cleaning toilets to going undercover, Brody is thrown into a life of subterfuge and deception so fast his head spins, all in the name of saving his home world, Caledonia, from plunging into war. It doesn't help that Eammon is a member of Caledonia's most notorious freedom fighters, who count all collateral damage as acceptable. Or that Brody left Caledonia as an Illyrian pilot. But they're brothers. That has to count for something, doesn't it?
Last year, I was lucky enough to get my hands on an advanced copy of The Nova Incident by Dan Moren, book 3 in his Galactic Cold War series. It was one of my favourites from 2022, and I always have an eye out for news on book 4. To fill the time while waiting, I have gone back to the start, when Kovalic, the Commonwealth's eminent spy, plucks Brody from his life of toilet cleaning and throws him into espionage.
The Caledonian Gambit focuses on Kovalic and Brody, establishing their personality, skills and weaknesses. Everything hinges on Brody's decision to join the Illyrian Empire despite his family's hatred of the Empire, his motivation behind joining and his behaviour when he faces the consequences of that decision. It's a compelling story of coming home after making a mistake and discovering how difficult it is to break toxic family behaviours you thought you'd outgrown. Brody thinks his pilot training and subsequent 'imprisonment' as a janitor means he's outgrown being bossed around by his older brother. But it doesn't take long being back in Eammon's company for Brody to fall back into his role as the younger, subservient brother.
All the elements that made me fall in love with the series are present in this book. Fast-thinking, wise-cracking space spies, gadgets, bluffs and double bluffs, and hints that Kovalic's past is far from squeaky clean. It moves along quickly, making it difficult to put down.
It's also an emotionally charged book. It was never going to be easy for Brody, returning home after being declared dead, fighting for the people his family considered their enemy. When he does, and he realises how much things have changed, it makes for painful reading, with Brody having few options that put him on top.
If, like me, you're twiddling your thumbs waiting to hear if and when we'll get a fourth book in the series, then I suggest grabbing a copy of The Caledonian Gambit and returning to the beginning. And if you've never read any of them, then this is an excellent place to start, and it's a bargain at the price. Highly recommended.