THE BASILISK THRONE by Greg Keyes from @TitanBooks #BookReview #Fantasy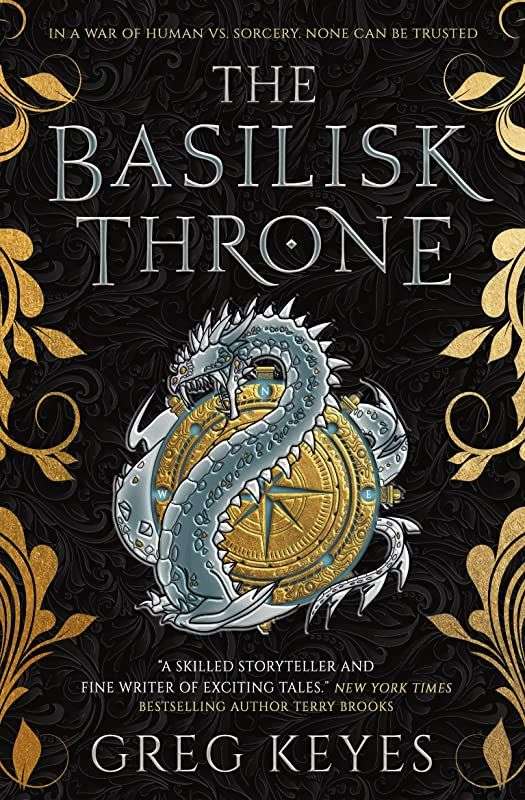 THE BASILISK THRONE by Greg Keyes.
Titan Books. p/b. £8.99.
Reviewed by Elloise Hopkins.
Aboard the Laros, the ship aflame in battle, and the fleet of Ophion defeated by the Drehhu, Naviour Alastor Nevelon has no choice but to take his chances in the water. The survivors are dangerously close to the edge of the world, and Alastor knows as well as the next man that no one ever returned from there.
Ammolite is a slave. She has lived her life to the count of a strange calendar and at the whims of a sorcerer. On the day of her sixteenth birthday, the calendar rings out a strange chime, and her life takes a darker turn. When next she looks in a mirror, it is not herself she sees. Over time, Ammolite must learn more about her master in the hope that she might one day escape.
In her beloved homeland, the Coste de Sucre, Chrysanthe has uncovered a terrible truth. Children are being sold into slavery. Now, wartime is upon them, and Chrysanthe will find that it places a burden not just on her father and brothers but on herself too.
The Basilisk Throne follows the various point of view of characters as they uncover a healthy dose of betrayals, magics and secrets and, above all, learn that trust is not all that easy to come by. There are some slower periods of scene setting and background at the start, but the pace picks up once all key characters are in position. Keeping the Cryptarchia magicians at arm's length throughout the narrative was a smart move in helping to maintain reader curiosity.
Hound is a character seen less in a point-of-view role than others, but he is by far the stand-out in this book. A feral forest dweller with a selfish and direct manner, he becomes entwined in the bigger picture when he trespasses into the home of sorcerer Veulkh. We find ourselves hoping that he will take a prominent role in the story still to come.