Star Wars The High Republic: Path of Vengeance by Cavan Scott
Star Wars The High Republic: Path of Vengeance by Cavan Scott from LucasFilm Press #BookReview #StarWars #HighRepublic #SciFi #Fantasy
LucasFilm Press, HB, £13.77
Reviewed by Sarah Deeming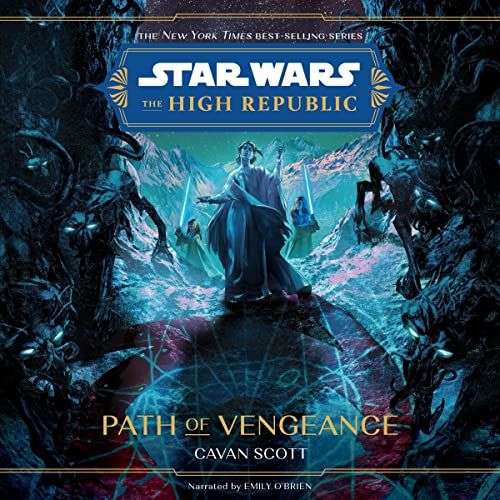 The Path of the Open Hand believes no one should use the Force. The Force should be free, not manipulated by Jedi for their own petty motivations. Arriving at the planet of Jedha, the Path plans to spread its message against Force users, but things quickly get out of hand. There is a riot, the Jedi step in to restore peace, and the Path limp home unsuccessful.
Marda Ro encouraged the Path to go to Jedha. With her plan ending in disaster, she is shunned by the Mother, the Path's leader and her idol. So Marda embarks on a dangerous journey to find creatures who hunt and absorb force users.
Her cousin, Yana, was abandoned on Jedha and sees things from a different point of view. She believes Mother is hiding things and forms an unlikely alliance with the Herald, another Path member who has fallen out of Mother's favour. The cousins are already on different journeys, but the fight on Jedha is pushing them further apart until they can no longer be together.
Path of Vengeance is the second book about Marda, Yana and The Path of the Open Hand. I hadn't read the first one, Path of Deceit, by Tessa Gratton and Justina Ireland, but that didn't stop me from understanding the events that had led the characters to their start points in the Path of Vengeance. There were no clumsy info dumps but a gradual reveal of how the past has affected the present.
Set about 350 years before Anakin Skywalker appears, we see the Jedi in their infancy, where the rules they live by in the time of the Republic are not yet set in stone. This book focuses on the Force and those who use it. The Path believe that no one should use the Force and the Jedi are the enemy, that every time they manipulate the Force, the Jedi create an imbalance and ordinary people suffer.
The story is told from three points of view, Marda and Yana Ro and Padawan Matty Cathley. Each of them has a different view of the Path and Force use. Matty and Marda are in direct opposition to one another, while Yana distrusts both the Jedi and Path equally. The three women spend more of the book separate from each other, only coming together at the climax, where their differing views directly impact the outcome. This is a very character-driven story where Marda and Yana take control of their journeys for their own ends.
I enjoyed Path of Vengeance. It was an easy read that moved along at a fast pace, with enough explanation to understand what had happened before without any lengthy passages that slowed down reading. I have always been a Star Wars fan, and Path of Vengeance has opened up a new avenue to indulge my unashamed geekiness as the ending was left on a suitable cliffhanger, leaving me hungry for more. Highly recommended.