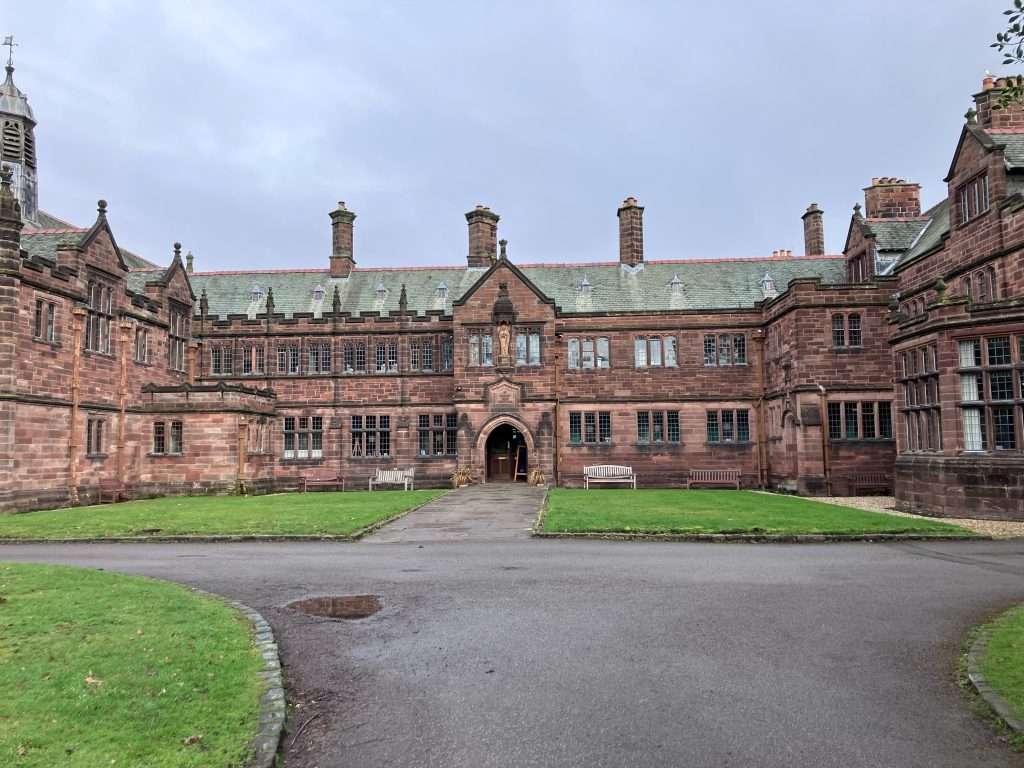 The first weekend of March saw the inaugural BFS Writing Retreat at Gladstones Library in Flintshire, and it couldn't have been better.
We arrived on Friday afternoon, and after checking in and putting our luggage away, we met in the gorgeous Gladstone Room, a spacious yet comfortable common room filled with sofas, armchairs and a jigsaw table, with a fireplace at either end of the room and a well-stocked bookcase. After a brief chat about our various journeys to get there, and marvelling over the beauty of the building, we went our separate ways to work for a couple of hours before dinner.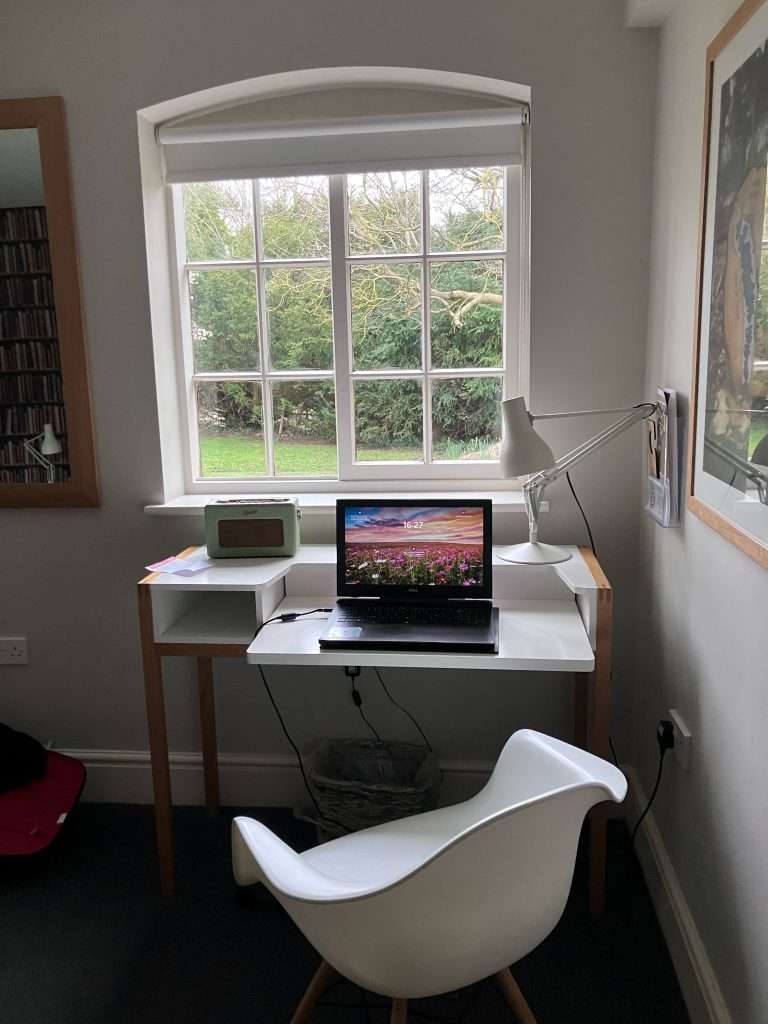 I chose to spend that time at the desk in my room, looking out on the beautiful gardens behind the library. I have to admit to getting a little distracted by watching the wildlife outside my window. That first afternoon I saw a cat, a rabbit, two squirrels, and a mix of robins, starlings, sparrows and a female blackbird.
We met for dinner at 6:30 and both the food and the service was excellent. The menu changes daily and has several vegetarian and vegan options. The chef took care to cater for members of our group with dietary requirements to the same standard as the usual menu. After a delicious meal, we retired to the common room, where there was an honesty bar, and attendees also brought along a selection of tipples, many of which were shared around. It didn't take long to go from being relative strangers to being a cohesive group of friends.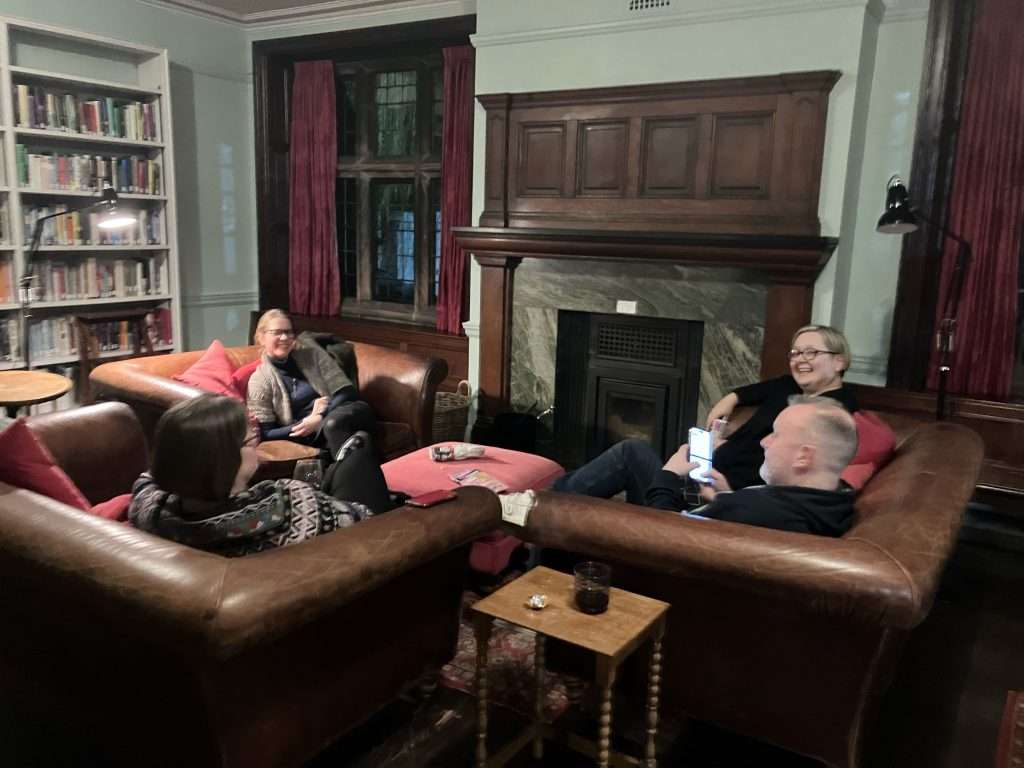 Over Saturday and Sunday we came together for meals and for chat and socialising in the evenings, and worked on our own projects and in our own ways throughout the day. The library itself has a wonderful atmosphere, surrounded by so many books!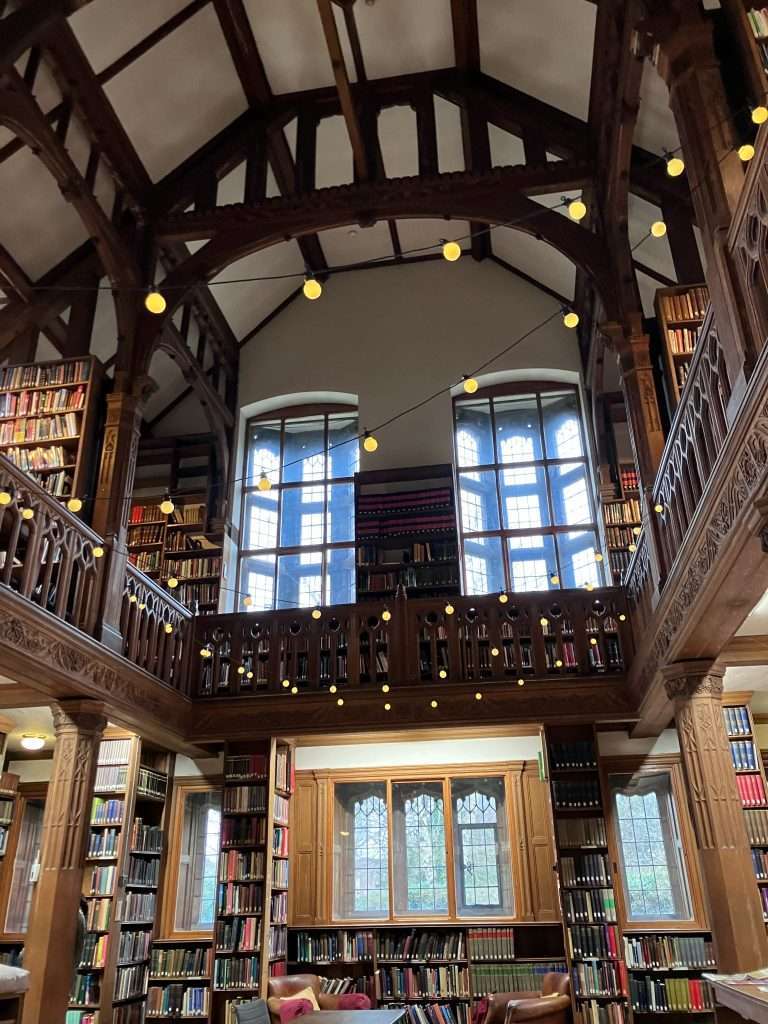 I can't imagine a better place to work. Every single member of staff that we dealt with over the course of the weekend was kind and enthusiastic about having us there. They went out of their way to make us feel welcome, and I can't wait to go back. But don't just take my word for it – here's what some of our attendees had to say: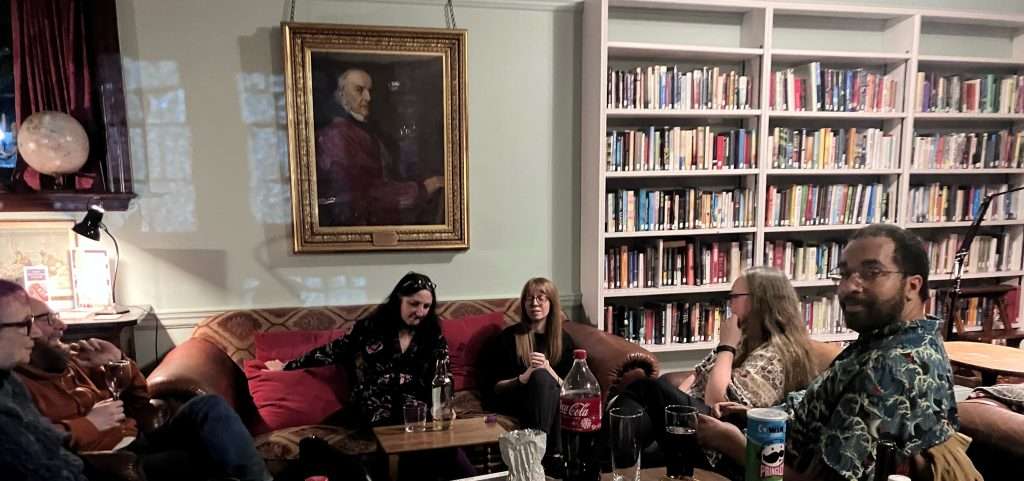 Like a few others, I had never attended a retreat. I am also rather new to the writing game and when I saw names of more established authors, I was a little nervous. I needn't have been. Everyone was so friendly and welcoming that my nerves (almost) disappeared by the first night. The staff are excellent and dietary needs are well catered for (the majority of food on offer is vegetarian/vegan).
 
In the gable-roofed reading room, I could focus for hours without distraction. In the common room, I could chat to friendly, like-minded people in front of a roaring fireplace. If I needed a break, I'd wander back to my room or around the grounds.
 
For me, a BFS trip to Gladstone's was a chance to try on another life for a weekend. I would absolutely do it again in a heartbeat.

-TH Dray
'I'd never been on a writing retreat before, and it's hard to think how any could possibly top this one. A spectacular library full of fascinating things, a cosy room to retreat to, and perhaps best of all, the company of enthusiastic and welcoming peers – what could be better? I did a lot of writing, ate a lot of good food, and did a lot of laughing, too. I'd especially like to thank the BFS and Shona for putting the whole thing together, as well as the staff at Gladstone's, who were all extremely kind and apparently happy to see us (even though I think we certainly edged towards 'cheerily boisterous' during our evenings in the lounge). It felt like a very special place, and I can't wait to go back.'

– Jenn Williams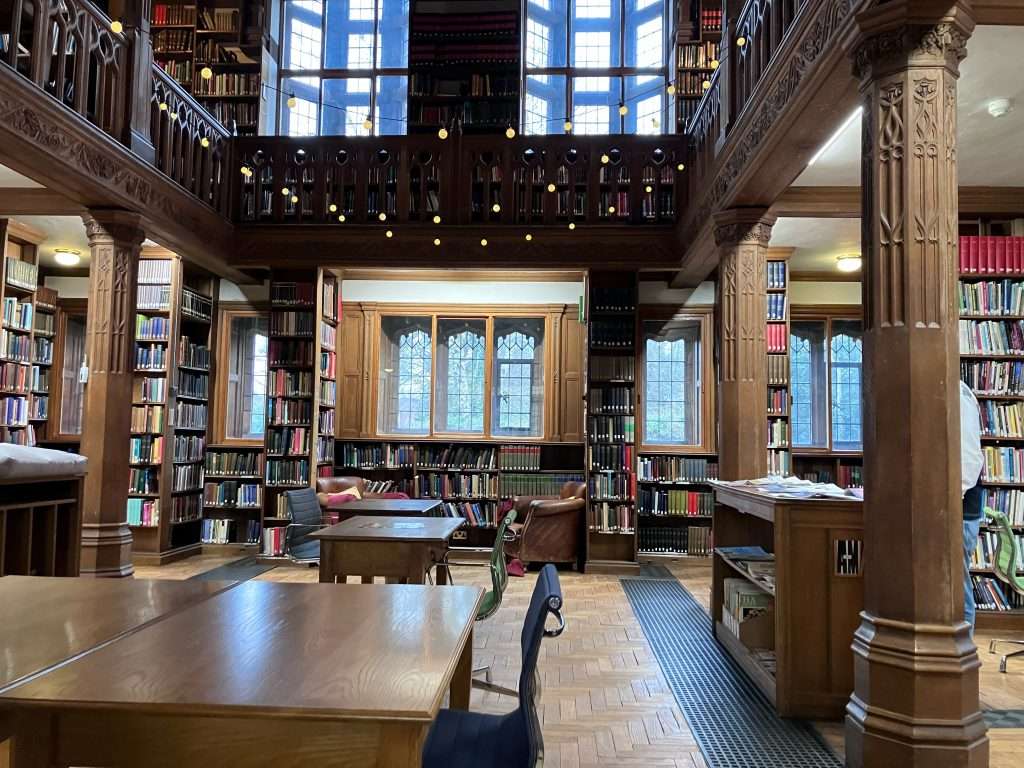 Gladstone's is a wonderful place to be and if you have the chance to go, take it. It certainly got my cogs going – not a euphemism. To be there with such a smashing group of fellow writers kicked it up, almost impossibly, to the next Word Nerd level. Everyone, staff and fellow writers, made me, who has the side quest of agoraphobia, feel safe and welcome and even my current weird dietary needs were attended to meticulously. I was so grateful and touched by everyone's kindness. I haven't spent time away from home on my own for a Very Long Time, so it was a challenge I wanted to take on, but one I was incredibly nervous about. I certainly didn't think it would be as positive an experience as it was. Well worth putting myself out there, and I'm really grateful to Shona and the BFS for organising it. It was a credit to the society as well as the library, and I hope you continue to run them. I'll be going again, even if I have to book my own room and pretend to be part of the group! And to my writing retreat gang, happy writing and I can't wait to see you all again.

C.A. Yates
There are few places so steeped in the tradition, celebration, and reverence of the written word to match Gladstone's Library.

Getting to spend time there is a kind of pilgrimage for writers, spoken of in hushed tones and now having been given the opportunity to experience it firsthand by the British Fantasy Society, it is a weekend I'll not soon forget. Sitting in the great library itself and letting words make the jump from mind to page was a joy, it's like the air is charged to allow the creative conjuring of prose. I couldn't help thinking of what Austenland author Shannon Hale said: "I'm writing a first draft and reminding myself that I'm simply shovelling sand into a box so that later I can build castles." I added many shovels of sand to my current first draft, and when I hopefully get to make them into castles they will bring back memories of Gladstone's Library, the great bunch of writers I got to hang out with, and the whole ambiance of the place (to which I hope to return before long).

Matt Adcock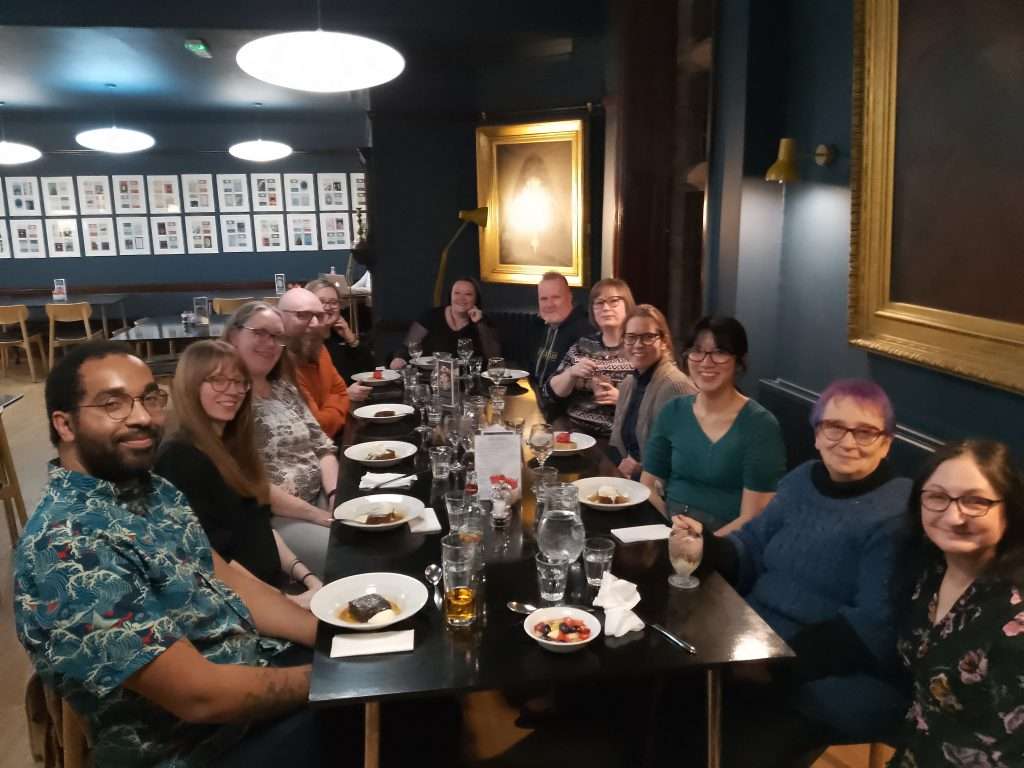 The Gladstone Library is a stunning setting for writing: in absolute silence, surrounded by 19th century books, with vaulted wooden beams above and sat at a desk looking down from the mezzanine, I was free from distractions. Free to work on whatever project I chose, with only the battery life of my laptop and the numbness of my bottom to alert me to the time. But more than that, by joining the BFS writing retreat, I had company and inspiration at mealtimes and evenings when my brain needed to unwind. It was the most friendly and welcoming group of writers I've ever had the fortune of meeting. Even though we were at different stages in our writing journey, shared enthusiasm and experiences helped us to bond and I am looking forward to meeting the others again at future cons and seeing the fruits of everyone's labours. I thoroughly recommend this retreat and hope it continues to run for years to come!

Eliza Chan
The retreat came at a critical time for me and gave me exactly what I needed.

The group was a lovely mix and provided oodles of emotional and writer support and genuine joy. Don't miss out on the 'haunted' painting!

The space to breathe and write with a calming bedroom (hard bed – beware!), great food for fuel, and an exceptional atmosphere in the library itself made me feel instantly ready to cook up new ideas and fresh words. The choice of vegan desserts deserves special mention.

There was plenty to explore nearby but I mostly stayed in to maximise the time writing and connecting with other writers. I felt so at home at a time when home didn't feel like that.

Really special. Thanks Shona and the BFS so much for this opportunity.

Halla Williams
It's easy to describe something as magical without thinking about it too deeply, but the atmosphere in the library at Gladstone's Library is truly magical. You sit there in the pin-drop silence surrounded by the wight of knowledge contained in the thousands of books peering down on you from the shelves, and you have to consider yourself one lucky writer just to be there. But the library, grand as it is, is not everything. Gladstones' is a residential library, you can live, if only for a few days, surrounded by books, scholarship and fellow writers. There's not only the library, but there's a restaurant for all your meals, and a warm common room with two magnificent fireplaces, squishy old-fashioned chairs and a table big enough to do jigsaw puzzles on. It's a perfect place for a writers' retreat. And did I mention the staff members were lovely, and the writer-company was fantastic?

Jacey Bedford
My deepest thanks to all of the staff at Gladstones who made our stay so wonderful, and to all of the attendees. I couldn't have asked for a kinder, more interesting group of people to spend the weekend with. It is my sincere hope that we'll be able to make this a regular part of the BFS calendar.