Beyond Sundered Seas by David Green (Empire of Ruin Book 3)
Reviewed by Shona Kinsella
Eerie River Publishing, eBook,
This review contains mild spoilers for the first two books in this series, so if you haven't read them yet, you may wish to go and do that first.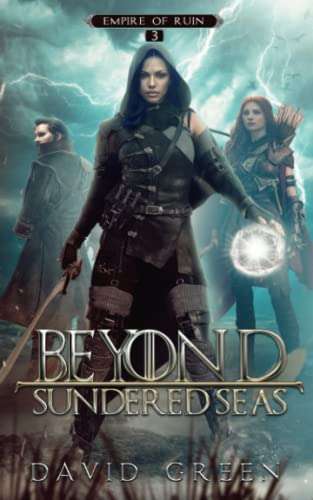 If you've read my reviews of the first two books in the Empire of Ruin series, you won't be surprised to learn that I loved this third instalment. It might even be the best in the series so far.
Beyond Sundered Seas picks up immediately after the end of Path of War and Green wastes no time in driving the tension up. Separated from Calene, Brina is given the next-to-impossible task of crossing the Sundered Seas to bring back help from Avastia. Resourceful as ever, she assembles an unlikely group of allies doing everything she can to recruit help and return to her love.
Calene, left behind to continue the resistance in Haltveldt, has been infected by the corruption which powers the shadow sparkers and it takes everything in her to fight it. She is aided in her fight by Greton, a character I completely adore. The preeminent scholar knows more about the spark than anyone else alive, despite not being particularly powerful in the spark himself. The two of them team up with the Shining Cross, seeking to unite the people of Haltveldt against an emperor gone mad.
Kade is deep in the Banished lands with Tilo, still fighting with everything he has to find a way to help and protect his son. Kade is reliant on his Banished companion for help in getting back to familiar lands, but Tilo is not acting like himself. When they finally find the Banished camp, Kade must decide where his loyalties lie.
As with the previous books in the series, the worldbuilding is excellent, with a nuanced and detailed magic system – which we learn a lot more about in this book. The characters are well-rounded and interesting, whether villain or hero, and the lines between the two are rarely clear-cut. Green handles the expansion of the world deftly, never forgetting to tie everything to the characters we've come to know and love. The stakes are huge and world-ending, but there are plenty of more personal stakes too as people grapple with their own consciences, fight with the darkness inherent within us all, and try to find another way in a society built on war and death.
This is a series filled with darkness – murder, addiction, madness, torture – but at its heart, its full of hope and a whole lot of love. Romantic love, yes, but not just that. Parental love runs throughout this series, driving characters to act beyond their own limitations in service to their children. The love between friends and siblings also plays a significant role throughout. Despite all the darkness, this series shines bright. My family teased me a little for my animation while reading Beyond Sundered Seas. I laughed, I gasped, I may even have teared up a little.
I find myself waiting impatiently for book four, even though I know with certainty that not all of my favourite characters will survive until the resolution. Sometimes, though, a good death in service of the ones we love, is its own form of happy ending. Or maybe that's just the goth in me speaking… Either way, I cannot recommend this series strongly enough. If you haven't started reading it yet, what are you waiting for?