And Put Away Childish Things by Adrian Tchaikovsky from Rebellion Publishing #BookReview #fantasy #horror
And Put Away Childish Things by Adrian Tchaikovsky
Rebellion Publishing, ebook, £7.49, Available for pre-order
Reviewed by Nadya Mercik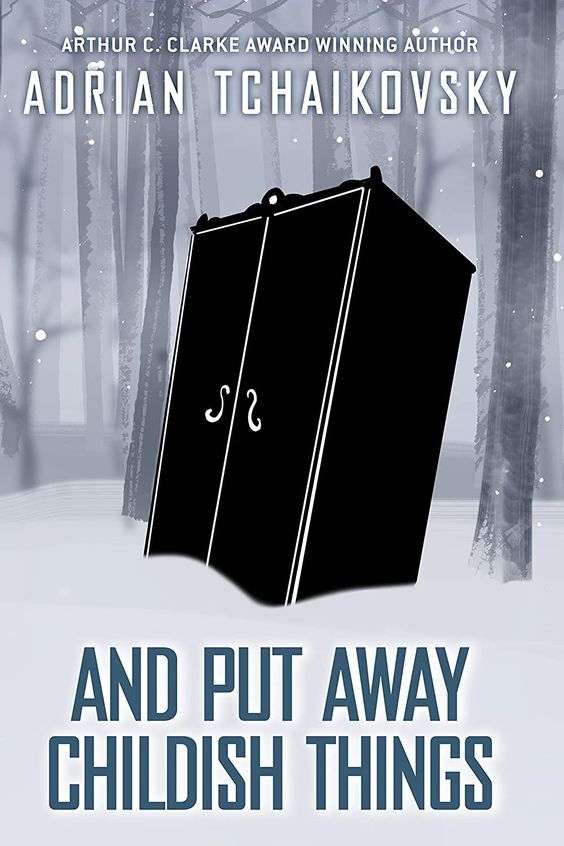 The third book in Terrible Worlds: Destinations series, this novella continues to explore unusual places and once again shows Tchaikovsky's gift for worldbuilding. It can be read as a standalone, for it pictures a completely new world and protagonist; however, together with the first two novellas, it creates a wonderful impression of hopping across a multiverse.
Felix 'Harry' Bodie is an actor with aspirations but not that much luck. He is currently working as a TV presenter on a kid's programme. He is also a grandson of writer Mary Bodie, who published a famous series of books about Underhill, the fairy country inhabited by lots of magical creatures, not unlike Narnia.
Invited to give an interview for a famous show, Harry hopes it might finally propel his career and set him in the world of high drama. He does not expect the host to dig out the fact that his great-grandmother was in the London County Asylum. So instead of huge popularity, Harry is now under suspicion – who knows, maybe his great-grandmother's mental illness had passed onto him. The news threatens to ruin Harry's career completely, for no one wants a deranged person working with kids.
As if that was not enough, on returning home from a bar, Harry sees a… faun. And then, the next day, he receives a call from a private investigator, who says her client is ready to pay him small money for taking a look at something connected to Underhill. Harry does not want to get involved in something like this but goes to check on the PI. It is then that he is suddenly kidnapped by a sect which believes that Underhill is real, and Harry knows a way into it.
He escapes the kidnappers with the help of some mysterious saviour, who kills the sect members. Yet his life keeps going downhill. His reputation is tarnished, he cannot feel safe anywhere, and suddenly the only person to help him is the private investigator. He agrees to fulfil her terms and go see the object, which turns out to be an old wardrobe ordered by his grandmother. This all looks like a huge mistake. After all, there was no wardrobe in the Underhill books – it was C. S. Lewis's story. Yet the PI insists on him going inside, and when Harry does, he truly ends up in Underhill.
Only this Underhill is creepier and far scarier than the one from the books. It also appears that its dwellers have a need for Harry, and there are no guarantees that their plans are all sweet and colourful. Harry flees the Underhill but cannot simply put this experience behind him. Because the real world is ridden by global pandemics, and his acting job is in danger. Because there in Underhill, he is an heir, and it might just be his chance.
And Put Away Childish Things is an amazing story on so many levels. In the same way as life does not let Harry catch a breath, the reader is compelled to turn the pages. At the very beginning, it is very hard to tell whether the whole Underhill and faun thing is really a bad joke or if the fairyland does exist. By plunging Harry into the rough waters of life, Tchaikovsky makes us not simply follow his adventures but question and doubt what is going to happen.
The novella is a wonderful example of a meta-narrative. It refers to many fairy land tropes as well as drives parallels with The Chronicles of Narnia, but all of them are subverted, loaded with additional meaning. Harry is asked to put away his childish perception of his grandmother's books, hope that they could add kudos to his popularity, and treat the whole magical country seriously, to find responsibility and new value to his life.
I also appreciated the approach Tchaikovsky took to depict the pandemic. The familiar self-isolation reality is made humorous by the fact that Harry has occasionally to switch off it by disappearing into Underhill, where time flies differently, as with the two previous Terrible Worlds: Destinations novellas, humour accentuates the serious themes chosen by the author. In And Out Away Childish Things, it is all about appreciating life and finding its meaning, about seeing and fulfilling your purpose.
The story to definitely add to your TBR list.