The Adventures of Amina Al-Sirafi by Shannon Chakraborty from @HarperVoyagerUK #BookReview #Fantasy
The Adventures of Amina Al-Sirafi by Shannon Chakraborty
Harper Voyager, HB, £13.41
Reviewed by Nadya Mercik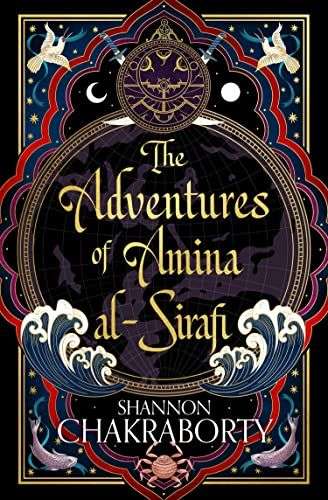 What if "Pirates of the Caribbean" happened against the bright and diverse background of the Middle Ages Indian Ocean coast with all the beauty of Arabian folklore? What if instead of Sindbad the Sailor, we had a woman captain, a mother who is forced to return to her pirate career to protect her daughter? The wild combination Shannon Chakraborty puts into this novel cannot but ignite your imagination and make you fall in love with the story.
Amina Al-Sirafi retired from her post of nakhudha (captain) of a pirate ship ten years ago. Her ship Marwati is now a legal vessel, captained by Amina's former first mate, while she is living in a faraway place with her daughter and mother. She hides her identity and hopes that her past is not going to catch up with her and her daughter since many people have a lethal grudge against Amina. But one day, as she is fishing in the lagoon, two boys ask to deliver them to an island. However, it turns out their real purpose is to summon the daughter of the lord of hell so that she can whisper the secrets of love in their ears. Of course, nothing goes as planned, and the daughter of hell lord is willing to kill them all. Amina has nothing to do but protect the young lads and herself and reveal she is not the old fisherwoman she pretended to be.
A few days later, she is visited by a rich lady from Aden, who wants Amina to find her kidnapped granddaughter. It turns out the lady is the mother of Asif, a former member of Amina's crew, who died under circumstances Amina is not ready to reveal to anybody. Enough to say that she feels guilty about that death. Still, she is very reluctant to return from hiding, but Sayyida Salima blackmails Amina with her past and bribes her with a lot of money. The offer is rather tempting since Amina would be able to afford a decent future for her child Marjana. After some doubts, she agrees to at least look into the matter and promises to stay under the radar.
If only that was easy. After recruiting her old friend Dalila the Poisoner, she arrives in Aden, only to find out that her ship and its crew have just been accused of murder and plunder and arrested. All the plans to go and ask about the kidnapped girl quietly go up in smoke when Amina and Dalila set to break into the prison and rescue the team and then have to battle two military ships to get out of the harbour. On top of that, Amina finds out that Dunya, the girl they are looking for, was not kidnapped but ran away with the foreigner.
As Amina and her crew are following the leads, they come across Amina's former husband, who is Marjana's father and can in no way know about the existence of his daughter; they have to battle many other magical forces and test themselves beyond measure.
What distinguishes this novel is a combination of exciting adventure, a good sense of humour and utmost humanity. Though the arch-enemy of nakhudha, Falco, is an evil man, who took part in the crusades, enjoys violence and has a rather Nazi worldview, many pirates, Amina's crew foremost, convey the spirit of a family. They take care of each other, respect and try to help with the ambitions they have. The crusade past of Falco shows not just the horrors of war but the greediness and selfishness of politics and some humans. Amina argues with him, and though it is impossible to persuade him, it portrays a twisted dichotomic picture, the inevitability of such developments and the clear necessity to fight it nonetheless.
As the characters of the story all come from different backgrounds and the port towns are rather cosmopolitan, there is room to talk about tolerance and diversity. I really loved the moment when Raksh, Amina's husband, tries to explain to her who he is and gives her a comparison – try to explain your profession of the nakhudha to the people who do not know water at all.
The story is told from the point of view of Amina, and I loved her voice. The way she tells the scribe who is writing down the story is that she has to keep all the expletives, or otherwise Amina is not telling it at all. The short dialogues between Amina and Jamal, the scribe, are inserted into the main narrative within the chapters. Amina is a person who is no stranger to doubts; till the very end, she is concerned about whether she can be a mother and a nakhudha at the same time, but she is also the one to accept herself as she is.
The only jarring thing for me was some of the interludes of the novel. As excerpts of other people's diaries or letters, they felt too short and did not seem to convey the important information or add to the overall atmosphere much. They made slightly more sense in the very end when we learned more about the scribe Jamal; however, I wished they were done in a different style as I wanted to stay more with Amina's voice. But that's probably the only thing I disliked about the story.
All in all, it was a wonderful immersion into adventures I so much liked as a child but shown from a different grown-up perspective and filled with important themes. The list of resources about the Indian Ocean region at that time, given at the very end, not only shows the extensive research which went into the book and is truly felt in the atmosphere but also invites you to learn more about that part of history, which might be an adventure in itself.