They Lurk by Ronald Malfi from @TitanBooks #BookReview # Horror #Novellas
They Lurk by Ronald Malfi
Titan Books, paperback, £8.99
Reviewed by Stephen Frame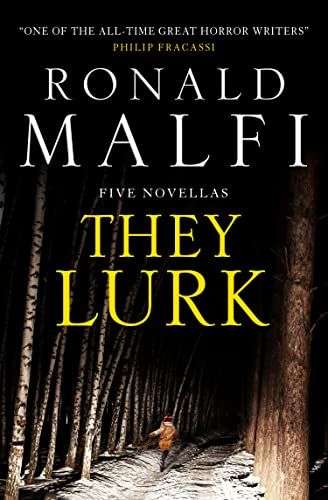 They Lurk is a fabulous format: five novellas between one set of covers, far more space to let the characters grow in your imagination than a short story allows, but with none of the commitment issues of a full novel. Why don't more publishers do this? Author Ronald Malfi gives us five tales of horror, all different and all with their own appeal. The first tale, Skullbelly, sees a down-at-heel private eye investigating the disappearance of three teenagers in a remote forest. Immediately, he's up against tight-lipped locals, evasive law enforcement and stories of a malign creature in the woods. It's common horror fare but done to a high standard of creepiness, with the detective's own story woven through it to provide a second plot thread. A fine start, though the ending feels somewhat weak.
The second story, The Separation, ups the creepiness stakes as a psychiatrist is called to the aid of an old friend, Charlie, who seems to be undergoing a mental breakdown after his divorce. This story neatly captures the growing frustration of Charlie's friends as he thwarts all attempts at remedying what ails him. Matters turn more mysterious and unexplainable; Charlie grows increasingly detached from reality. The narrative plays well on the theme of whether he is ill or if more sinister, supernatural forces are at work, never revealing anything until the closing pages.
The third story, The Stranger, is a neat set-up, simple and yet very effective. David and his new girlfriend are on a road trip. They stop at a down-market motel. A stranger locks himself in David's car and won't come out. Similar to Skullbelly, this story interweaves David' own internal story with events in the car park, where matters take a horrific turn. Be prepared for graphic, bloody horror.
After the Fade is the fourth in the line-up, an end-of-the-world tale that recalls Stephen King's The Mist. In this case, the protagonists are trapped in a bar by the flying horrors outside, rather than a supermarket, but it still delivers that claustrophobic sense of no one escaping alive, so what do we do with the time we have left? For me, this was the strongest story in the book, with suspense, action, dialogue and characters in the right proportions.
The final tale, Fierce, felt like the weakest. A mother and daughter crash their car in a snowstorm, leading to an encounter with a killer. It reads as a fairly routine survive-the-psychopath story. It has its moments, though; there's enough to keep you turning the page.
They Lurk is well worth spending some time on. There are moments of gory horror that feel gratuitous and unnecessary, but the author's deft line in subtle and skin-crawling creepiness more than forgives this. One to be read with the lights on. During the daytime.