The Sword Defiant Review by Gareth Hanrahan from @orbitbooks #BookReview #Fantasy
The Sword Defiant Review by Gareth Hanrahan
Orbit, pb, £8.99
Reviewed by John Dodd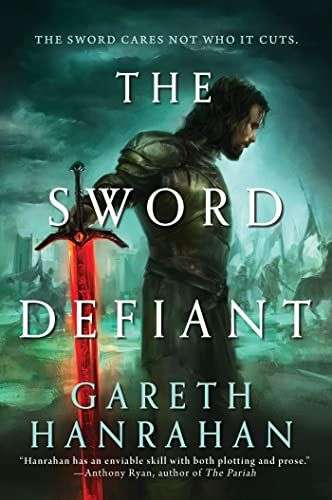 Aelfric (Alf) was one of the nine great heroes who defeated the forces of darkness long ago, and in doing so, because custodian of Spellbreaker, one of the cursed weapons that the darkness had used. Now many years later, older, wiser, and far more tired than he was in youth, Alf finds that the darkness is rising again, and this time, there are not so many to stand against it.
The story begins with Alf being taunted by Spellbreaker about the way in which things have gone, about the life he now leads, compared to the life he once led, and it goes downhill from there. A tomb has been despoiled, that of Lord Bone, the great darkness, and there were only eight others who could have opened it without the wards put upon it destroying them. Eight others…
Eight Heroes…
But time makes a mockery of all things, and the heroes that were are no longer what they once were. Some are twisted, some weakened, some just as strong, but become strange, and Alf now finds himself trying to put the wrong things right, with the whisperings of Spellbreaker at his side the whole time.
No light-hearted romp this, but nor completely grimdark, it's a world with all the politics and grey areas that our world has, only transposed into the fantastical, where machinations are as much down to the strength of arms as the whims of tyrants, and great magics and creatures roam freely. The world is lavishly described, and the characters within are fully realised, flawed creatures in their own ways, but each with purpose and agency to act.
This is part one of a trilogy, but unlike many first acts, it tells a story entire that brings the reader on an epic adventure where it is never a certainty as to who will prevail and what was an ally the previous chapter may be an enemy in short order. The interactions between Alf and Spellbreaker are worth the read by themselves, and it's interesting to read the perspective of an intelligent weapon that understands that for all its colossal power, it is dependent on another being willing to wield it.
That doesn't mean that it's not willing to get its wielder into trouble if it doesn't like what's going on, but that's what makes it interesting.
This is everything fantasy should be; well recommended.