Such Sharp Teeth by Rachel Harrison
Titan Books pbk £8.99
Reviewed by Ian Hunter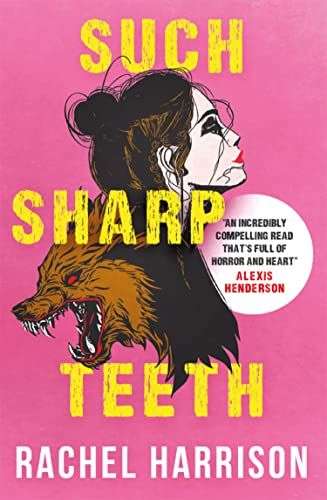 Rachel Harrison has previously given us novels about scary reunions ("The Return") and Witches ("Cackle" – great title) and now in "Such Sharp Teeth" we get…I was going to say no spoilers here, but given the title of her latest offering and its connection to a well-known fairy tale and the cover illustration showing the head and shoulder of a young woman that morphs into a snarling wolf, then there is no escape that we are dealing with werewolves.
Aurora – Rory – Morris doesn't want to go back home; there are too many bad memories waiting to be stirred there, but she doesn't have any choice if she is going to help her pregnant twin sister, Scarlett, especially when there is no one else around to help her. So she's back, and managing to cope, even bumping into an old friend called Ian, who might have been something else, and might still be, but hits a large animal while driving her car, and when she goes to see the damage done, she is viciously attacked and is lucky to survive the attack, and while it leaves her with some physical and emotional scars she finds that she has changed. She is stronger, her senses are heightened, she doesn't like to touch silver anymore and the moon is calling her.
What can she do, who can she turn to, and also was this just a colossal piece of bad luck, or was she deliberately targeted? But if that is true, who would do such a thing, and did they intend to kill her, or even worse, pass on this dark curse of turning into a werewolf?
Forget about old-school werewolves, like Lon Chaney. JNR, with a furry head and hands, still wearing his clothes, with a liking for getting onto the higher ground so he can pounce down on people. Here, we are in "An American Werewolf in London" territory with full-on body horror descriptions of Rory's painful, body-altering transformations into something that hunts and kills in rural or urban environments.
Pain aside, Rory is so full of rage that she might just give into these full-moon changes and embrace these changes as a way of releasing everything that has built up inside her, but if she does, she might lose herself in the process becoming more beast than human. Can she find a way to control these changes, and does she really want to?
Harrison already has a reputation for creating female characters who come across as real people with real issues, concerns, and problems, and if their lives weren't complicated enough, some of them, unfortunately, have to bump up against the supernatural. "Such Sharp Teeth" continues her oeuvre of placing Rory back home, beside her sister and friends and all the problems that it creates, as she tries to confront the past and deal with the things that drove her away. Added into the mix is her relationship with her twin sister, who is also going through her own body transformation and has to rely on Rory more and more following being abandoned by her partner.
Told in the first person, "Such Sharp Things" is very readable and very funny in places with the snarky dialogue between Rory and her sister and with her friends, but underneath is a multi-layered story about anger, trauma, and acceptance. I'll look forward to reading Harrison's next novel, "Black Sheep", which will no doubt be something very different from her previous novels, and hats off to Titan Books for continuing to bring great horror writing to UK readers.