Star Trek Strange New Worlds Season 2 on Paramount+ #TVReview #StarTrek #StrangeNewWorlds #ScienceFiction
Star Trek Strange New Worlds Season 2
Paramount+
Reviewed by Celia Neri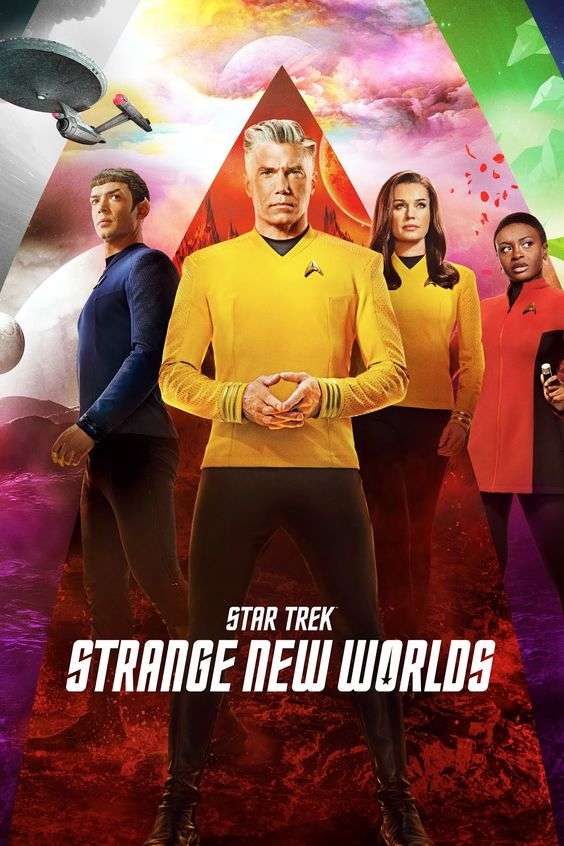 After the first season of Star Trek: Strange New Worlds season 1, we were left in no doubt: SNW is, without a doubt, one of the most exciting Star Trek series of the twenty-first century. The ten episodes of Season 2 brilliantly further cement that.
While the first season focused a lot on Captain Pike and his coming to terms with his fate, the second season explores the rest of the characters through a string of loosely related stories. In the second episode, "Ad Astra Per Aspera", we find out about Una's background through an episode about civil rights and refugees. The third episode takes La'An through time to confront her heritage. The next one gives Ortegas her time to shine. "Charades", the fifth episode, offers great comedy moments and develops Spock and Chapel's relationship. The sixth episode focuses on Uhura, while the eighth tells us about M'Benga and Chapel's past and studies PTSD and war crimes. Kirk—and his brother—are recurring secondary characters throughout. The relationships bloom, and the mentor role Una takes for La'An was a particular highlight for me. Each character is developed with a great attention to detail and an immense respect for the original actors who played the roles.
Because, after all, Strange New Worlds is a prequel. We all know the fate awaiting Pike and Una. We all know Spock, Uhura, Kirk, and Chapel will become the iconic characters of The Original Series. The way the writers play with this constraint is brilliant. Chapel and Spock's doomed story illuminates anew the TOS episode "The Naked Truth", but it also shows how much Chapel had going for her before she had to return as a nurse in the original series. We watch Nyota Uhura grow into the character she will become, and even if Uhura wasn't already a fan favourite, she'd become an instant one.
But all this hinges on two special episodes of the season.
The first one is a cross-over with the canon animated series Lower Decks. I'd recommend watching at least two episodes of Lower Decks before diving into "Those Old Scientists" so that you know a bit more about Boimler and Mariner, who arrive from the future. The episode is filled with references that'll delight old fans ("Worf's honour!") and is an excellent comedic story. But it's more than that. Through their blunders, Boimler and Mariner help the SNW characters, stuck as they are in their own ruts, to find their way and give them faith in their own future.
The second one, the musical episode discreetly acknowledges what it owes to its ancestor, the Buffy musical, and relies on the same premise. The characters reveal their innermost thoughts through songs. They are extremely enjoyable, with two highlights: Chapel's lively number and Uhura's, which showcases the talent of Celia Rose Gooding. And if you were waiting to finally hear what a Klingon opera sounds like, prepare yourself for a surprise. It ends in a perfect Star Trek way and pushes the characters on the path Boimler and Mariner showed them in the time-travel episode.
The stories are well written and Star Trek through and through, but it's the actors who make them shine even more. Anson Mount, as Pike, is more often in the background in this series, but with delicious comedic moments when you catch him, particularly in "Charades". Rebecca Romijn, as Una, gives her character the depth and nuance she was denied in the pilot. At the risk of stating an unpopular opinion, Paul Wesley offers us a James T. Kirk I infinitely prefer to Shatner's and his portrayal makes you happy to know that Spock, Chapel and Uhura will continue their adventures with him. Christina Chong as La'An shines in the third episode. As for Celia Rose Gooding, they are, without a doubt, a revelation. They show us the frailty of a young woman and, underneath, the extraordinary woman Uhura will become. Even the guest actors are a pleasure to watch, with a particular mention for Yetide Badaki in the Una-centric episode.
Whereas the three seasons of Picard were a (very enjoyable) nostalgia fest, Strange New Worlds is a show that makes room for both old hands and new viewers. It's Star Trek for the 21st century, with the themes and values that make the franchise so beloved but reinvented to fit contemporary tastes. I can only hope that the voyages of this Enterprise will run their planned five-season course, and I urge you to watch it, whether you've long been a Star Trek fan or just a casual viewer of science-fiction shows.