Every Friday, we meet a member of the BFS and peer deep into their soul (or, at least, a form they filled out). Want to be featured? Email us: online@britishfantasysociety.org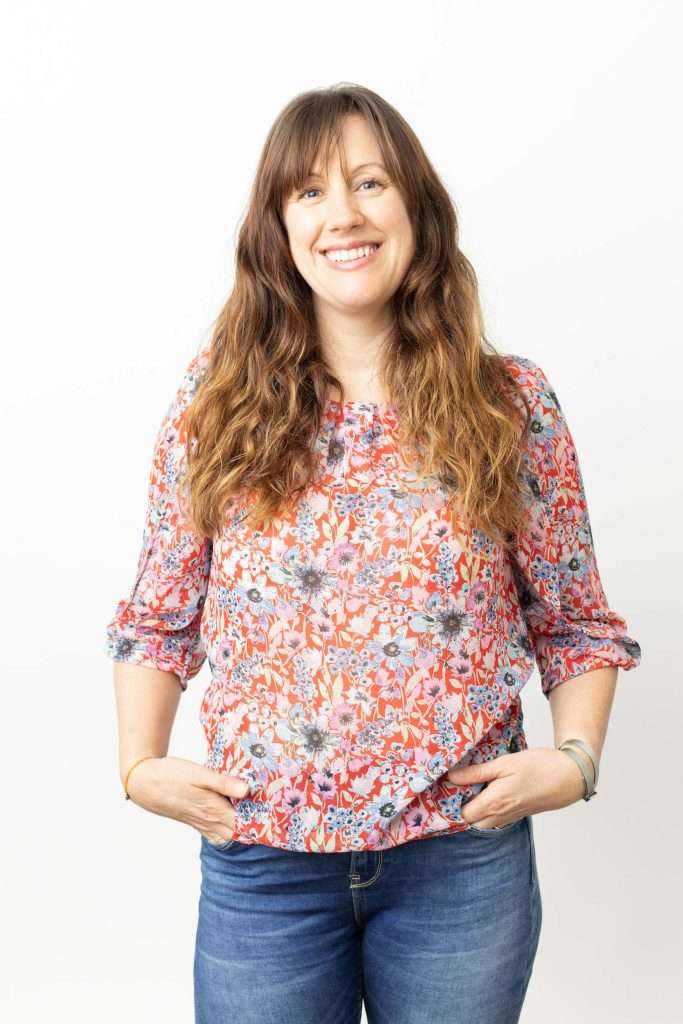 Name, including preferred pronouns
Stefanie Parks (she/her)
Which region are you based in?
Originally from Derbyshire. I have had the pleasure of living in Middleton, Matlock and Belper. Currently, I'm living in Christchurch, New Zealand.
Genre you write
Fantasy
Are you drawn to any specific sub-genres?
I particularly enjoy contemporary fantasy.
Your influences
Tell us about the book/film/thing that got you into SFFH: What was it? How old were you? What impact did it have on you?
I was six years old. My reading had been limited to 'Peter and Jane' or 'Billy Blue Hat' type books at school and it would be fair to say that I wasn't overly interested in reading. It wasn't until my Grandmother gifted me an old, green book that I realised the true magic of reading. I remember sitting on my bed and opening the cover. I was surprised to find there were no pictures inside and thought it must be a book for grown-ups. I read the first chapter and was hooked.
The book was The Enchanted Wood by Enid Blyton, and it started a life-long love of fantasy stories. From there, my mother helped me join the library and I devoured every book I could get my hands on. I read widely but always returned to fantasy. I was drawn by the magical worlds and mysterious characters and, of course, by the possibility that magic could actually exist. My childhood favourites were Tom's Midnight Garden, The Owl Service and The Lion, The Witch and The Wardrobe.
How does that early influence show up in your writing now?
The themes within my favourite childhood books are clearly referenced within my work now. I often write of children who are sent to live elsewhere, magic that is hidden within houses, mysterious noises, and my upcoming book even has a grandfather clock in it—an homage to Philippa Pearce's work.
Where do you draw your creative inspiration from?
Life experiences mingled with imagination. I'm a terrible daydreamer and will often find myself wondering, what would happen if….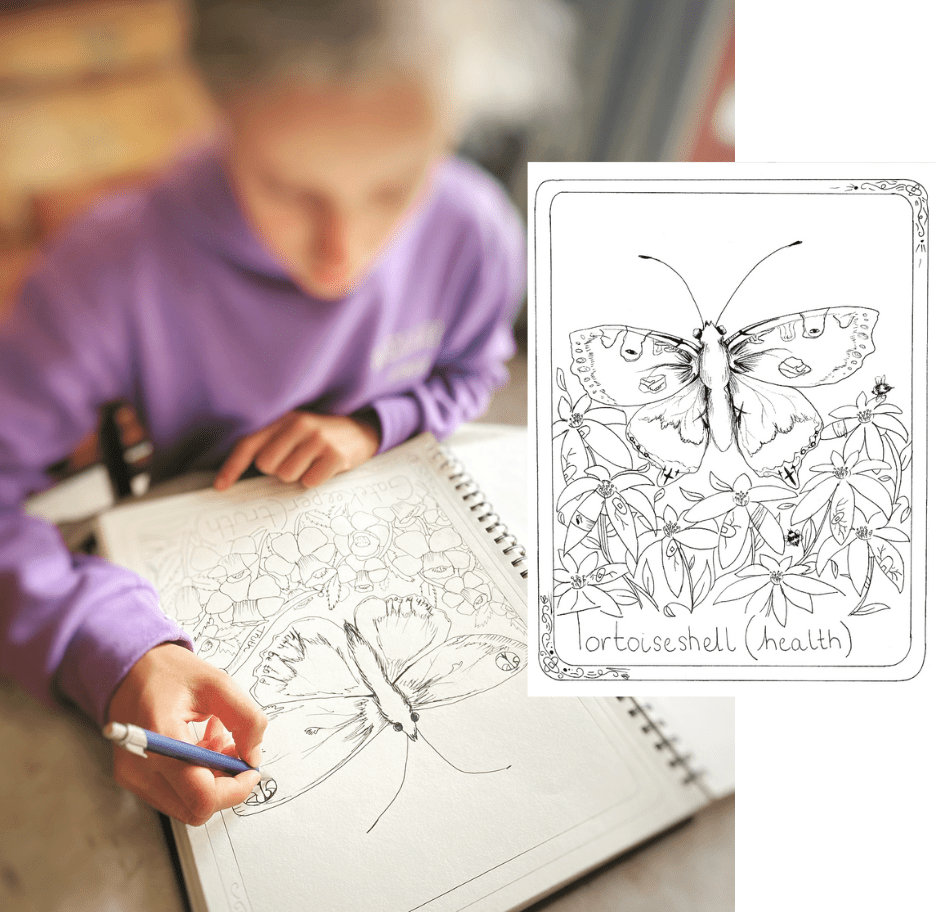 The Derbyshire countryside is also a big inspiration. I was lucky enough to grow up there and all my stories have been set in small Derbyshire towns.
(Pictured left: sketches by her friend's daughter Imogen are also a source of inspiration; pictured below,the author hiking in NZ )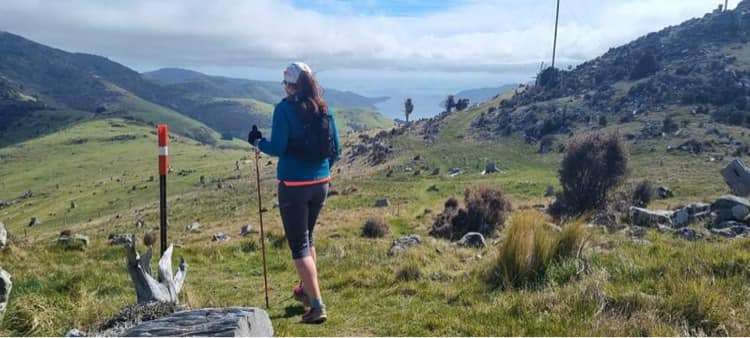 Who do you look to as a genre hero? Why?
Garth Nix is probably one of my favourite fantasy writers. I can't get enough of his Old Kingdom books and I find his approach to creating magical worlds and systems allows me to join the dots and fill in the blanks which I enjoy.
Your work
You're stuck in an elevator for 60 seconds with that hero, and they want you to describe your work. Give us the pitch.
Well the official pitch would be: "The Butterflies of Meadow Hill Manor is a heart-warming fantasy fiction which weaves themes of grief and anxiety along with friendship and discovery to deliver a truly magical story."
In reality, I'd probably dive right into asking his opinion about the new world I'm building for an Arthurian legend series of books.
What are you working on right now?
A sequel to The Butterflies of Meadow Hill Manor, and book one of the above mentioned Arthurian legend stories. I'm attempting a quadrilogy and the planning is taking quite some time!
(Pictured: Stefanie's very organised and clean desk!)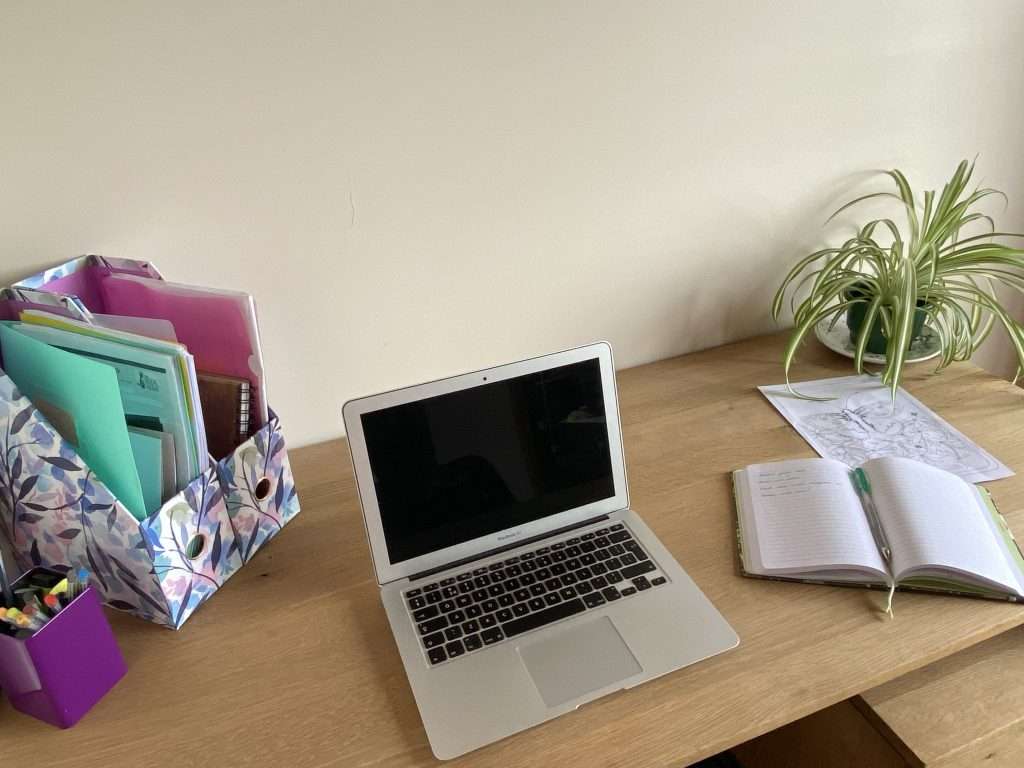 Thinking about all of your stories/work you've done, which one sticks out most in your mind? Why?
The Butterflies is my first book so will always hold a special place. When I first started it, there was a male protagonist and the butterfly magic was focused around time travel. It's changed a great deal to get where it is today.
Where and when do you create/are you at your most creative?
I daydream regularly and often have my best creative ideas at the most inappropriate times such as during work meetings or training sessions. I end up pretending to take notes when I'm actually scribbling out storyline ideas!
My other most creative time seems to be whilst outside. I'm a big outdoor enthusiast and find that when I'm out in nature I can let my mind wander freely. I currently live in New Zealand so have lots of opportunities to run, swim and bike in the great outdoors here.
(Pictured below: the author wild swimming in the NZ winter)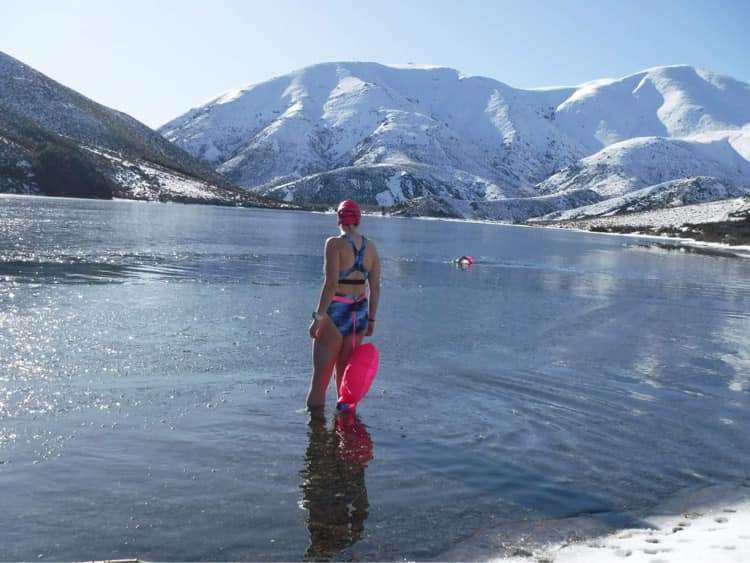 I do my actual writing at a desk in a quiet room of the house. I like a calm, quiet, organised space for my writing sessions.
What's the best advice you've received about creativity?
Stay true to yourself. Some people will enjoy what you write, some won't. Both are ok. As long as you're enjoying what you write, you can feel proud.
The quickfire round
Sci-fi, fantasy or horror?
Fantasy!
Quiet or loud?
Quiet
Dark or light?
Dark
Strict lines or genre blend?
Genre blend
Awards or bestseller?
Awards
Fiction or non-fiction?
Fiction
Poetry or prose?
Ooh – tough! At the moment I'm quite into poetry slams so I'm going to say poetry.
Plotter or pantser?
Plotter
Reading or listening?
Reading
Notebook or computer?
Notebook for initial ideas and planning. Computer for writing.
Favourite SFFH book of all time?
Can I only pick one!? That's tricky. The Subtle Knife by Philip Pullman would probably be my all time favourite as I adored the concept and magic of the knife.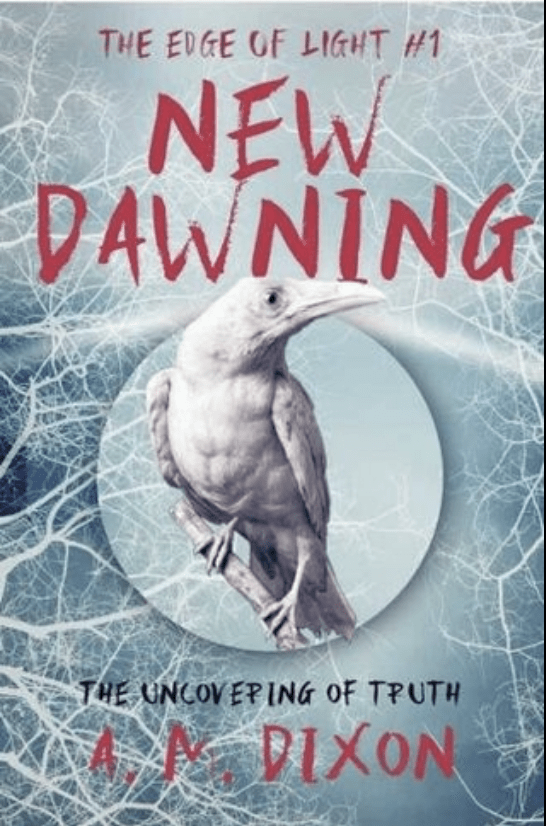 Last book you read?
The Edge of Light: New Dawning, by A. M. Dixon
This is a fairly new cli-fi trilogy about a girl living on a futuristic island in the middle of the sea. It takes place in a small community that has survived the floods and heat brought about by climate change. The community lives with limited resources, under huge man-made shades to keep out the sun.
This book really got me thinking and I'm looking forward to the second one.
Any SFFH author on auto-buy?
No, but I very rarely order books online. I love visiting my local bookstores too much!
Favourite podcast?
The Fantasy Writer's Toolshed hosted by Richie Billing is one of my writing favourites.
The home stretch
What's the best thing about being a SFFH writer?
Letting my imagination run wild and having the freedom to create entire magic systems and worlds.
The other writers I've met – they're the most interesting people.
The obligatory coffee and cake when meeting with other writers!
Time to plug your stuff! Where can we find you and your work? What have you got coming up? Consider this your advertising space.
The Butterflies of Meadow Hill Manor is a middle-grade children's fantasy fiction that can be purchased at all major bookstores from 28 November.
You can find me online at sparkswriting.com or across various social media channels:
Instagram – @sparks_writing
Facebook – S.Parks Writing
X – @SParks_Writing_