LYING IN THE DEEP by Diana Urban from @RazorbillBooks #BookReview #Horror #YA
LYING IN THE DEEP by Diana Urban.
Razorbill Books. p/b, £9.72
Reviewed by Elloise Hopkins.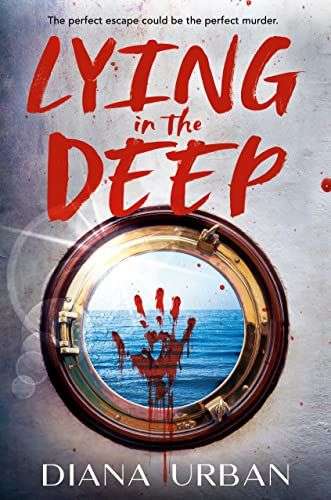 After much hard work and heartache, the time has finally come for Jade Miller to board the Sea Voyager. The ship is Stanford's 'Campus on Board' and Jade's trip of a lifetime. It promises a semester of offshore studying, visiting eleven countries in four months, for which she has dreamed, saved and dreamed again. Now, as the queue inches forward, Jade cannot wait to leave shore and her awful breakup with Silas and her former best friend far behind her.
Unfortunately for Jade, the worst parts of her recent past are not as far behind her as she thought, and life at sea is about to become far less freeing than she hoped. With the first port stop finally here and the Tower of London waiting, Jade's unease grows, and she begins to discover that there may be more to the whole sad story of her relationship breakdowns than she realised.
Lying in the Deep is a YA whodunit with a dark, underlying motive that delightfully keeps the reader second-guessing as the story unfolds. Like all classics of its genre, the author provides multiple potential suspects and motives and cleverly drip-feeds the back story, eventually lining up all the pieces ready for the big reveal.
Jade takes on the point of view narration for the duration, and as a heroine, is endearingly flawed, at times a victim of her own naivety and her willingness to allow others the benefit of the doubt. Her trust in others is understandably compromised, and the reader easily finds empathy for her, as someone who has made sacrifices and lived through events she has, only to find the next chapter of her life equally trying.
Whilst at times Jade's decision-making is immensely frustrating, and a little deus ex machina steers the narrative, Urban nevertheless delivers a very easily-readable page-turner that will be an excellent dose of summer holiday reading for many. It is certainly a book that can be enjoyed by a wider audience than the YA target readership.