How to Train Your Dragon by Cressida Cowell from @HatchetteKids #BookReview #Fantasy #MiddleGrade
How to Train Your Dragon by Cressida Cowell
Hatchette, HB, £11.95
Reviewed by Sarah Deeming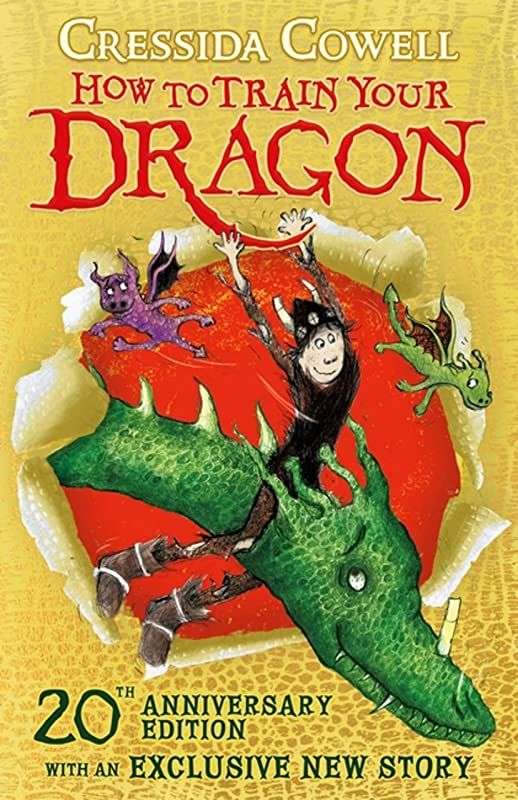 Hiccup Horrendous Haddock the Third is the rather small son of the Chief of the Hairy Hooligan Viking Clan. Great things are expected of him because he is the son of the chief. That makes him special. But Hiccup doesn't feel special or Viking-like. He feels like Hiccup, who enjoys reading and believes there is another way to train his dragon other than shouting at it, which makes the rest of the clan suspicious he is as useless as he is small. Unfortunately, Hiccup's dragon is Toothless, the most contrary Common-or-Garden dragon in the whole world who doesn't care that his disobedience could see him and Hiccup thrown out of the clan. But when a giant sea dragon wakes after centuries of sleeping underwater, it's Hiccup's time to shine and maybe show everyone he isn't as useless as they think.
Can you believe How to Train Your Dragon is twenty years old? No, I can't, either. But there it is on the front cover of the very well-read copy that belongs to my oldest – first published in 2003. When I sat down to reread it, I wondered whether it had aged well or whether cracks had appeared, as society wants different things from books for our children. What struck me as I read it again with a reviewer's eye was how ahead of its time How to Train Your Dragon was.
Hiccup is just an ordinary boy. He isn't a big boy like others and doesn't enjoy the same activities. Hiccup has other interests and passions, which he hides because he's afraid of bullies. He is crushed under the weight of expectations placed on him and craves a different relationship with his father than the one he has. Hiccup is so relatable because what young person doesn't worry about bullies, is fearful of being different, or finds the expectations of school and family too much to deal with while dealing with the difficult business of growing up. Readers can look at Hiccup and see an element of themselves in him even now. And, of course, Hiccup does save his clan, but in his own unique way. Things would have gone very differently for the Hairy Hooligans if Hiccup hadn't been the little boy he was with his individual skills and talents.
Then there is the humour. My version of the book contains many little pictures and hand-scrawled extracts from other books, such as the original How to Train Your Dragon by Professor Yobbish. This brings a delightful element to the story and will help bridge the gap between picture books and chapter books for younger readers. But Toothless is the real source of humour. He is a spoilt, contrary little dragon who thinks himself much greater than he really is. Whether it is picking a fight with dragons much bigger than him or refusing to do as he's told, Toothless is funny, reminiscent of a toddler. I empathised with Hiccup at dealing with this demanding little creature, while my children thought he was brilliant for saying no all the time. For Cowell to have created such an endearing character for different reasons to different age groups speaks of her skill as a writer.
The thing that stood out for me the most reading this time around was the relationship between Hiccup and his father. If Hiccup can't control Toothless, he will be banished from the clan. That is how it has always been, and it never occurs to Stoic, Hiccup's father, that he can change those rules. Toxic masculinity is still a relevant topic. Demonstrating a different way for boys to behave so we can change society is an ongoing process, and here is that message in a story from twenty years ago. And the change doesn't come from Hiccup but from Stoic himself. When he is forced to banish Hiccup, Stoic challenges himself on why he can't just change the rules. He questions why he has to follow this path of his chief and all the chiefs before him. He accepts he loves his son and, so, finds a way to keep Hiccup in the clan. That is a subtle but powerful message.
How to Train Your Dragon is a classic. There is no other word for it. It is a delightful read full of humour and emotion and a strong message to children that they don't have to be the same as everyone else; they are enough as they are. And the 20th edition comes with a new story included. Highly recommended.