GHOSTS By GX Todd from @headlinepg #BookReview #Horror
GHOSTS By GX Todd
Headline Publishing Group, h/b, £20.00
Reviewed by Matthew Johns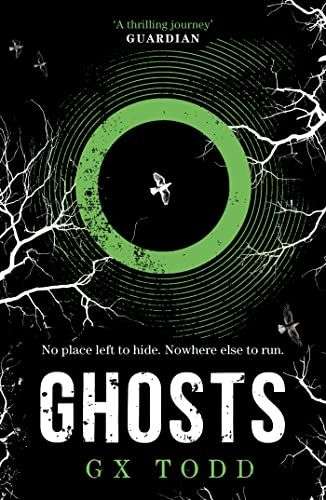 The conclusion to GX Todd's Voices quadrilogy returns to the post-apocalyptic world that she had so artfully crafted in the three previous books. Seven years before, people all around the world started hearing voices. Not everyone did, so this quickly and inevitably split the world into two factions, which very swiftly brought death and destruction. Vast swathes of humanity were wiped out. Much of the infrastructure that kept the world before running was destroyed, and with skills in short demand, the world quickly descended into chaos.
Comparisons to Stephen King's 'The Stand' are inevitable, particularly when there is a mysterious villain, 'The Flitting Man', who seems to control people with ease and brings yet more fear, death and destruction wherever he goes. However, Todd's work stands on its own feet. Her prose brings the feral world to life, painting a vivid picture of the eternal struggle between good and evil as Pilgrim, Albus, Lacey, and Addison try to come together to defeat The Flitting Man despite every obstacle that lands in their path.
Todd sensitively explores the complicated relationships between the characters – the ever-stoic Pilgrim always fighting onward, trying to protect his charges and enable goodness to triumph. The almost paternal relationship he has with Lacey and his protectiveness of her and her young niece Addison. Addison's childlike innocence in a world where the only constants seem to be pain and conflict. This final chapter in the Voices saga is filled with death – perhaps more than before, and the passing of characters that have become beloved by readers is sometimes brutally sudden but handled tenderly.
There are many parallels that can be drawn between this work of fiction and the world we live in – a human race divided and fractious, mistrust and hatred of those that are different, and seemingly all-pervading and unbeatable evil hiding in plain sight behind a smile. It paints a bleak picture but has a golden thread of hope running throughout it. Despite everything that happens, despite the death and disfigurement, that most human of emotions – hope – lives on. Just as it did when Pandora released all the sins into the world, hope stays with us, as it stayed with Lacey, Addison and the others in Todd's work. The moving finale of this final chapter brings closure to an epic tale well told.