ECLECTIC DREAMS: A Milford Anthology edited by J W Anderson, Pete W. Sutton & Liz Williams #BookReview #SciFi #ShortStories #Anthology
ECLECTIC DREAMS: A Milford Anthology edited by J W Anderson, Pete W. Sutton & Liz Williams
Kristell Ink, 240 page p/b, £13.89
Reviewed by Pauline Morgan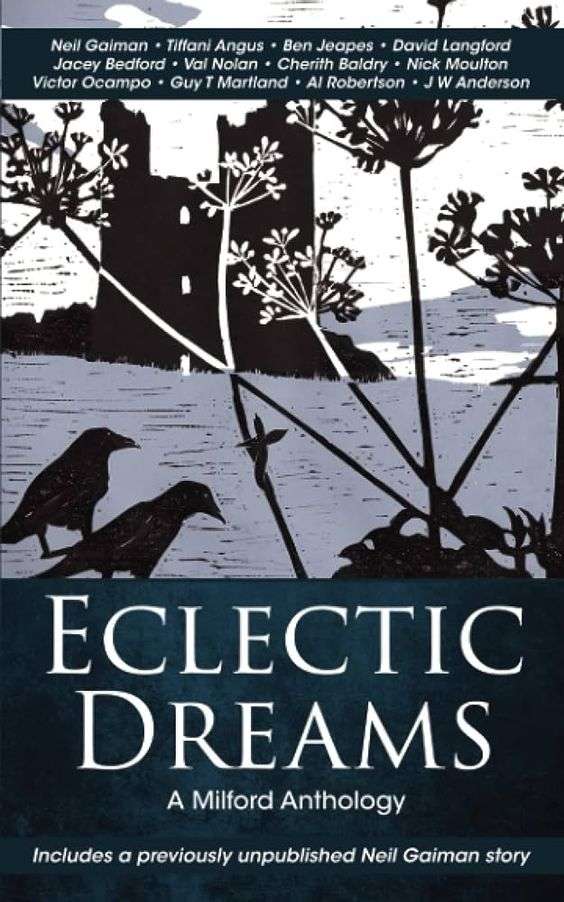 I have to declare an interest. I have been an attendee at the Milford SF Workshop on a number of occasions. For those who don't know about Milford, it holds a week-long workshop every year at which work in progress is discussed by up to fourteen of the writer's peers, with the intention of strengthening the story. It is an intense and rewarding week. To be eligible, a writer need only have had one story published. The attendees range from those just starting their writing careers to authors with numerous stories and novels to their name. In recent years, Milford has given two bursaries to writers of colour. This costs money, and to keep the momentum going and to be able to continue to offer these, this anthology is aimed at raising money for them. It is also a showcase for some of the stories that have passed through the Milford process.
All the stories here, except one, have made it into print since their Milford workout. The exception is 'Ryland's Story' by Neil Gaiman. This doesn't make it a bad story, just that Gaiman didn't return to it at the time. It is an idea story. Imagine that anything written as fiction cannot be true because it is fiction. The only scenarios that are true are those that are non-fiction. Ryland is one of a team of writers trying to write stories about all the possible disasters or events that could happen and, by writing them, prevent them from happening. So if someone writes about the jib that Ryland has, does he become fiction?
Some stories stay in the imagination for a long time. The details may become hazy, but the essence remains. One of these is 'Go With The Flow' by Ben Jeapes. The narrator reflects on the reasons why he became interested in fluid dynamics. As a boy, he realised that his Gran and her friends were deliberately manipulating traffic flow to keep dangerous drivers out of villages and on the motorways. An insight as to what Sunday Drivers are really doing.
There is a very wide range of stories, both in genres and styles, represented here. 'Mama Leaf' by Tiffani Angus is a fairy story, a cautionary tale of the kind once told to girls to teach them the ways of the world. Mama Leaf is a woman who has only birthed daughters to a husband demanding a son. In desperation, she visits his mother to ask how to make a boy. She is told that there will be a price to pay, but the circumstances are such that she is willing to pay it.
'The Venetian Cat' by Cherith Baldry is a historical fantasy with magic and science. This is a beautiful story of love, betrayal and hope. Alchemist Ramiero has worked for twenty years to revive the woman he loves and restore her as the true ruler of her city. 'Scenes From Domestic Life With The Gentry' by Nick Moulton also has a historical setting, but this time with aliens. It is also a horror story as the parasitic aliens – the Gentry – control the aristocracy who think it a privilege to be 'Gentrified'.
A contemporary setting provides a lot of scope for diversity of themes. 'Serpent Eggs' by David Langford sees a journalist arriving on a remote Scottish island looking for a story. The islanders are trying to live without technology, but they don't look well. While the story has touches of 'The Wicker Man', it is a clever blend of horror and science. 'Pitch' by Jacey Bedford brings a supernatural flavour to the modern world and contemporary business practices to the task of making a deal with the devil. Robert wants to save hiws job as a salesman but needs to pitch a proposal and hope it is accepted. 'Of Dawn' by Al Robertson is the story of a woman coming to terms with the death of her brother during an army deployment. She explores the poetry and music that he loved and visits the places that haunted him.
Moving into the near future, 'Words Of War' by Guy T. Martland. In a time of conflict, past war poets are recreated using AI technology. Although originally published in 2014, the story foreshadows some of the developments happening in the field today.
While Nick Moulton's contribution had aliens appearing in the past, 'A Last Day' by J. W. Anderson has the visitation happen in our future. The Reapers appear from nowhere and Take their victims. When Kojima Minoru receives a Visitation, he decides he will not be Taken without a fight.
The two stories that are more traditional SF are very different. 'Old School: an oral history of Captain Dick Chase' by Val Nolan is told in an experimental form of fragments of interviews and relates to the events triggered by the discovery of Captain Dick Chase's cryo-preserved body. Humans are at war with an alien race, and Chase uses old-fashioned methods to solve the problem. 'Blessed Are The Hungry' by Victor Fernando R. Ocampo is a beautifully constructed story set in a generation ship. The ship is divided into sections, each on a supposedly thriving community. Elsa, the narrator, describes the plight of the inhabitants against a background of dwindling food supplies and a growing population. It deals with themes of female suppression and the sometimes malignant practices of religious hierarchy to suppress unrest with punitive measures,
This is an excellent anthology in its own right, but as all proceeds will support the encouragement of talent and diversity, buying it will contribute to those aims. Go on, buy one – or two.