Don't Fear the Reaper by Stephen Graham Jones from @TitanBooks #BookReview #Horror
Don't Fear the Reaper by Stephen Graham Jones
Titan Books, pb, £9.19
Reviewed by John Dodd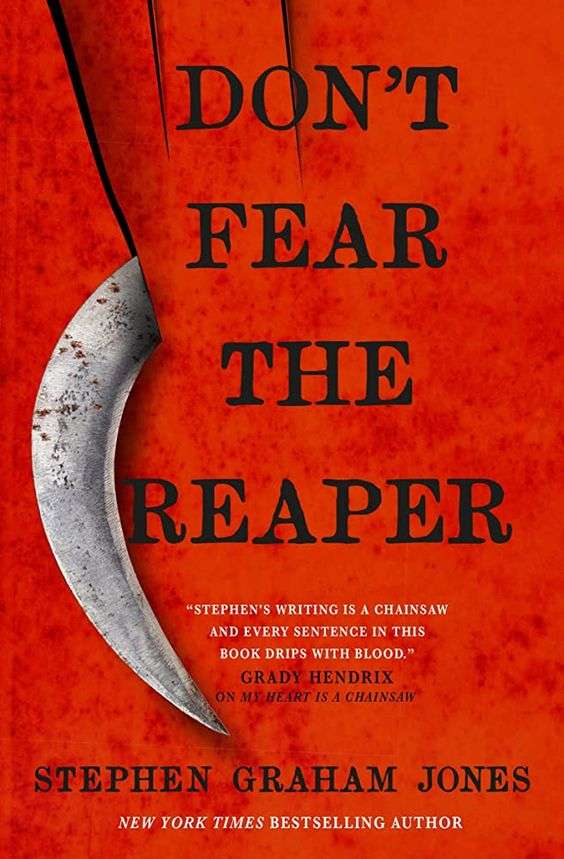 In advance, I hadn't read My Heart is a Chainsaw, so I came at this cold, as cold as all the bodies in the novel by the time we reached the end. The problem with second books is that many of them require that you've read the first one before you can reasonably make sense of the second.
Not the case here.
And that was a sigh of relief because I've read too many things where it's impossible to get into the book without doing 400 pages of catch-up, and this, like the slasher films that it pays such homage to, makes sure that you're caught up in the first fifty pages without any problems.
Jennifer (Jade) Daniels has just been released from prison following the events of the first book, right into the town of Proofrock, Idaho, where the serial killer Dark Mill South, is also making his way across the landscape, seeking vengeance for atrocities committed before his life began.
This book is very aware of the tropes and mythos of the slasher genre, and it makes neither effort nor pretence of ignoring any of them, instead leaning into those things to make a story that fans of those tropes will love, but also that is accessible to others who aren't such ardent fans. That the characters in the book are both aware of the tropes and act to them is both endearing and ridiculous, as evidenced by a line from the book itself.
Hiding in stupid movie shit when she should be running…
But it's not stupid; these are the stories that kept so many enthralled through the emergence of the horror genre, and in acknowledging those tropes, in basing the story so much around them, it makes it all the more real when a character within the story chooses to ignore the tropes around which they are built.
From the occasional interlude from the slasher all the way to the possibility of the final girl still standing at the end of the story, this is another love song to the slasher genre, only layered in such a way as to keep us guessing even when we should know better when we've seen it a hundred, a thousand times, and yet to find something new within the pages.
This isn't stupid movie shit, this is excellent storytelling, and as much as I already know now what happened in the first book, I'll be going back to take a look.
After all, you need to know the beginning to be able to see the end…