BLACK PANTHER: PANTHER'S RAGE By Sheree Renee Thomas from @TitanBooks #BookReview #Comic #GraphicNovel #BlackPanther #Fantasy
BLACK PANTHER: PANTHER'S RAGE By Sheree Renee Thomas
Titan Books, h/b, £17.99
Reviewed by Matthew Johns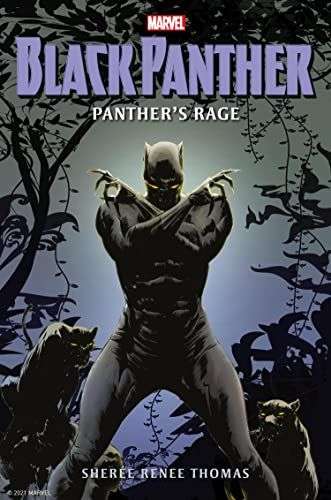 Most people now know the Black Panther – the Marvel films made sure of that, and the tragic passing of Chadwick Boseman further cemented its place in the public consciousness. How King T'Challa returns to Wakanda, is challenged for his throne by Erik Killmonger, and ultimately lives happily ever after.
This novel follows the similar storyline, but is very different indeed – much more faithful to the original comic book source. The beginning is very similar, but Ulysses Klaue is already dead, having killed T'Challa's father. T'Challa has been absent from Wakanda for some time living in the US. He has fallen in love with a talented jazz singer named Monica, and has befriended a fellow Wakandan named N'Jadaka. On receiving notification that his regent, N'Baza has died, he returns home bringing both N'Jadaka and Monica with him, fully intending to marry Monica and make her his queen.
Arriving back in Wakanda, they are greeted by colourful celebrations welcoming the king home – dancers, singing, fireworks and more. All seems very idyllic until it turns ugly – a dancer screams "death to the panther demon" and spits in Monica's face, and some start chanting "Killmonger". It seems that not everyone in Wakanda is happy to see their errant king return, and things have changed in his absence.
Things progress from bad to worse from this point as T'Challa finds that his insular nation don't like the idea of having an outworlder as their queen, and that many feel their king abandoned them in favour of outworlders like her. He finds himself battling Killmonger and his armies, coming across various super-powered hench people, Vibranium-enhanced animals, mind-controlled dinosaurs and giant white apes (amongst other things).
The T'Challa in this book is impulsive, fast to anger, and struggles to understand how his people are feeling. He makes assumptions too quickly without thinking things through, and often finds himself in trouble as a result. Quite different at times from the onscreen version, it's still a thrilling book and poor T'Challa finds himself on quite a journey as he tries to re-establish his connection to his land and his people, while going on a journey of self-discovery.
Whether you've seen the film or not, this is a great novelisation of the comics, bringing exciting action, thrilling battles, Wakandan high technology, tragedy, love and humour. It's an enjoyable read, with a huge cast of characters though, so do make sure you're paying attention! I read this in several sittings, so did find myself at times having to flick back a few pages to remind myself who people were. But that's my own failing, and definitely not the fault of the author.
This book is dedicated to the memory of Chadwick Boseman, showing how much of an impact he has had on society through the Marvel Cinematic Universe. A great addition to any fan's library – Thomas really brings Wakanda and her people to life in the pages.