Silver in the Bone by Alexandra Bracken from Quercus Children's Book #BookReview #Fantasy #Arthurian
Silver in the Bone by Alexandra Bracken
Quercus Children's Books, ebook, £9.99
Reviewed by Pete Sutton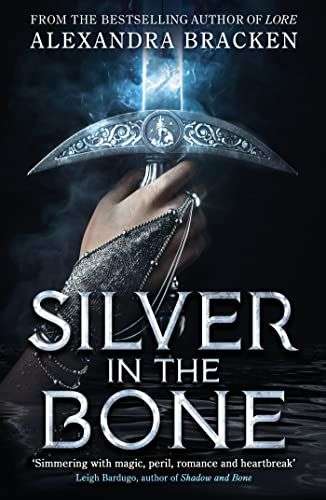 A series opener inspired by Arthurian legend and fuelled by love, revenge, and pure adrenaline!

The Blurb: "Tamsin Lark didn't ask to be a Hollower. As a mortal with no magical talent, she was never meant to break into ancient crypts or compete with sorceresses and Cunningfolk for the treasures inside. But after her thieving foster father disappeared without so much as a goodbye, it was the only way to keep herself—and her brother, Cabell—alive.

Ten years later, rumours are swirling that her guardian vanished with a powerful ring from Arthurian legend. A run-in with her rival Emrys ignites Tamsin's hope that the ring could free Cabell from a curse that threatens both of them. But they aren't the only ones who covet the ring.

As word spreads, greedy Hollowers start circling, and many would kill to have it for themselves. While Emrys is the last person Tamsin would choose to partner with, she needs all the help she can get to edge out her competitors in the race for the ring. Together, they dive headfirst into a vipers' nest of dark magic, exposing a deadly secret with the power to awaken ghosts of the past and shatter her last hope of saving her brother. . . ."
It's pretty hard to explain what I liked and didn't like about this book without massive spoilers. But I'll try. I thought it had a cracking pace and was a good rollicking adventure for the most part. Tamsin is a character without power in a world where having power keeps you alive. The world-building is deft, if a little thin, and the writing and characterisation are very good.
Cabell's curse is a great plot device, and the rivalry between Tamsin and Emrys, a rich guild member, is well done. The beginning part, where they are treasure hunting, was excellent. It gets a little bogged down in the middle but soon picks up again s,o it didn't feel as though the pacing was off by much.
It's only loosely Arthurian (see 'inspired by' above in the blurb) and that grated a little as the characters began to explore Avalon. I thought it was either not needed – could have worked just as well with some other, made-up mythology – or needed more development. Perhaps the Arthur angle is expanded in subsequent books?
That brings me to the other reason I didn't like this book as much as I could have. The ending. It's certainly a cliffhanger and it goes places I didn't expect but on turning that last page, I felt a little cheated, a little strung along and manipulated. I expect it'll work well when the next book in the series is out, as I can see people finishing and then scrambling to order the next. But right now? With no sign of a sequel? It's not great leaving so many questions unanswered.
But if all you can say in the negative is that the book leaves you wanting more, is that such a bad thing?